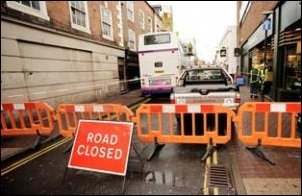 A DOUBLE decker bus hit scaffolding as it drove along a Worcester road forcing access to be closed off to traffic and pedestrians.
The First Bus caught the poles outside a disused shop under renovation as it drove along Angel Street in the city centre at about 7.20am on Saturday.
No one was hurt and it is believed the bus driver – who was not carrying any passengers – was trying to avoid a delivery lorry which was parked outside fast food restaurant McDonald's.
The police, fire and ambulance service were called to the scene and the road had to be closed until about 12.45pm for safety reasons and to allow the scaffolding company to dismantle the entire tower, which had been pulled away from the building by about four feet.
Shops and businesses were also forced to close during this time.
Robert Taylor, of Robert Taylor Hairdressers, said: "It is a bit inconvenient but it is better to be safe. I have had to reschedule about four clients and obviously lost out on the walk-in trade. No one was hurt, though, that is the main thing."
The Cricketers public house, which is opposite where the incident happened, also had to stay closed until pedestrians were allowed down the street at 11.15am.
Adrian Dowling, husband of landlady Kim Dowling, said it had been disappointing as they had been expecting a number of cricket fans coming to the city for the Worcestershire versus Glou-cestershire match to call in for breakfast and a pre-game pint.
However, they had been told by the fire service to keep to the rear of the building until the scaffolding was made safe just in case it fell.
"It was disappointing and we did have a lot of customers on their way here," said Mr Dowling.
"I didn't hear it happen but from my window you could see that the bus safety bar had caught the scaffolding.
"It was frustrating for us. It's unfortunate, but no one was hurt."
Passer-by John Stewart of St John's, Worcester, said: "It made a bit of a racket when it hit. But thankfully there was no one on the bus and nobody was injured."
A DOUBLE decker bus hit scaffolding as it drove along a Worcester road forcing access to be closed off to traffic and pedestrians. The First Bus caught the poles outside a disused shop under renovation as it drove along Angel Street in the city centre at about 7.20am on Saturday.
No one was hurt and it is believed the bus driver – who was not carrying any passengers – was trying to avoid a delivery lorry which was parked outside fast food restaurant McDonald's. The police, fire and ambulance service were called to the scene and the road had to be closed until about 12.45pm for safety reasons and to allow the scaffolding company to dismantle the entire tower, which had been pulled away from the building by about four feet.
Shops and businesses were also forced to close during this time. Robert Taylor, of Robert Taylor Hairdressers, said: "It is a bit inconvenient but it is better to be safe. I have had to reschedule about four clients and obviously lost out on the walk-in trade. No one was hurt, though, that is the main thing."
The Cricketers public house, which is opposite where the incident happened, also had to stay closed until pedestrians were allowed down the street at 11.15am. Adrian Dowling, husband of landlady Kim Dowling, said it had been disappointing as they had been expecting a number of cricket fans coming to the city for the Worcestershire versus Glou-cestershire match to call in for breakfast and a pre-game pint. However, they had been told by the fire service to keep to the rear of the building until the scaffolding was made safe just in case it fell. "It was disappointing and we did have a lot of customers on their way here," said Mr Dowling. "I didn't hear it happen but from my window you could see that the bus safety bar had caught the scaffolding. "It was frustrating for us. It's unfortunate, but no one was hurt." Passer-by John Stewart of St John's, Worcester, said: "It made a bit of a racket when it hit. But thankfully there was no one on the bus and nobody was injured."