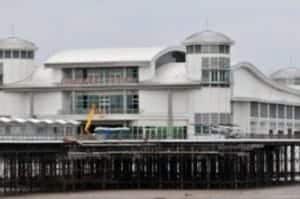 A contractor working on Weston-super-Mare's £51 million Grand Pier had to be taken to hospital after falling intosea.
It is understood he fell from scaffolding in high winds at 11.15am yesterday.
A colleague who saw the drama unfold called the coastguard, who alerted Weston's RNLI crew.man, in his early 40s, had been in the water for about 20 minutes and suffered hypothermia, cuts and shock. He was taken to Weston General Hospital for treatment, but is not believed to be badly hurt.
Weston RNLI operations manager, Pete Holder, said: "The man was in the water by the end of the pier and had been in the water for about 20 minutes and was very cold."
A spokesman for John Sisk and Son said: "An employee of a subcontractor was involved in a fall at the Grand Pier at Weston-super-Mare and has been taken to hospital as a precaution.
"We place the health and safety of our employees and all those working with us above all considerations in everything we do.
"John Sisk & Son Ltd (Sisk) is very proud of our strong safety record and an investigation into the circumstances surrounding the incident is under way."
It is understood that thus is the first accident on the pier since work started to rebuild the attraction, which was ravaged by fire in July 2008, last year.
The pier was due to be handed over to owners Kerry and Michelle Michael at the end of June.
But a series of delays, including problems with the decking around the pavilion, has meant the building has yet to be handed over.
No date for the handover has yet been agreed but it is understood to be 'imminent.'