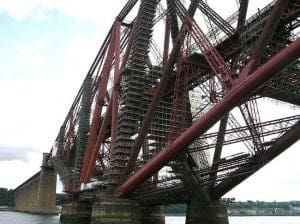 Shocked workers told yesterday how bosses have been left worried after the new coat started to flake.
Experts said the bridge's £74million makeover meant it wouldn't need to be painted again for at least a quarter of a century.
But our exclusive picture – taken before the work has even finished – shows the special paint is already falling off.
Last night one insider said: "The bosses are worried over this – it is flaking off.
"It's supposed to last 25 years – but the job isn't done and there's problems already.
"All the staff working on the bridge have been talking about it. There's no way the work is going to be finished in a couple of months like they are claiming.
"There's a huge part that's fallen off one of the girders.
"They are going to have to get the scaffolding up again to try and solve the problems.
"It's going to cost mega-bucks. There's been scaffolders brought in to build a platform to help the bosses assess the damage."
The bridge has famously needed constant re-painting since it was opened in 1890 – to stop it rusting.
It even made it into the Cambridge International Dictionary of Idioms describing the phrase "like painting the Forth Bridge" as meaning a task that seems to take forever.
But two years ago it was revealed the "miracle" paint – containing glass flakes – had been found.
It was made by English firm Leigh Paints, and was said to mean the 1.5mile-long bridge wouldn't need a new coat until at least 2032 – or even 2042.
The bridge is being refurbished by workers from construction firm Balfour Beatty.
Last night a spokeswoman said a problem area covering approximately 10 square metres was identified on the bridge. She added: "As part of any project final inspections are carried out.
During such an inspection a small area was identified as requiring some re-work."
No one was available from Bolton-based Leigh Paints
Read more: http://www.thesun.co.uk/scotsol/homepage/news/3129162/Miracle-paint-Er-no-it-aint-as-Forth-Bridge-is-flaking.html#ixzz0zFnzWuIi