Editorial Feature

The scaffolding industry has never been more competitive and is always under pressure to maintain high standards of safety and professionalism. You may feel you are sometimes in the dark about how best to comply with any new guidance such as the new TG20:08. CADS understand that pressure and their software developers have been working closely with the NASC and their ever growing customer base to make TG20:08 compliance simple and painless. CADS have even produced a simple guide to TG20:08 and their how their software can help.
Request CADS FREE guide to TG20:08 Here.
SMART Scaffolder is the industry's leading professional software solution benefiting owners, estimators, contracts managers and designers. With its revolutionary 'check IT' module SMART Scaffolder ensures quotes and drawings are TG20:08 compliant!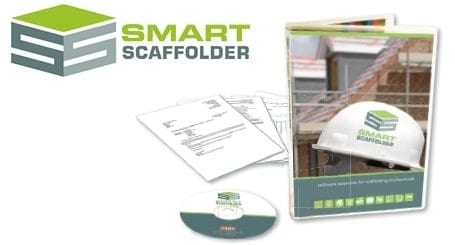 CADS state that in addition to improving the scaffolding firms' efficiency and profitability, many contractors, health and safety inspectors and clients are also seeing the benefits that CADS SMART Scaffolder software can bring to their side too. Through professional estimates, drawings and design check reports they have turned TG20:08 into a business opportunity for all scaffolding professionals!

The HSE requires that unless a scaffold can be shown to be a TG20:08 'Basic Scaffold' then it must be designed by calculation by a competent person!
SMART Scaffolder check IT+
This is a plug-in module that checks whether your scaffolds are 'Basic Scaffolds'. The software automatically performs a 'Basic Scaffold check' including calculation of the safe height and the required tie duty. (Including Appendix H which deals with 'permeable building surfaces')
check IT + also addresses design issues outside the scope of the TG20:08 'Basic Scaffold check' ensuring even more (typical) scaffolds fully comply with the latest guidance without the expense of an engineer's fees.
Partially-boarded independent scaffolds with any combination of boarded lifts, non-boarded lifts and ladder-access landings.

Independent scaffolds with any combinations of guardrails, even with triple guard rails and inner rails.

Fully-loaded independent scaffolds (without sheeting or debris netting).

Aluminium independent scaffolds (without sheeting or debris netting).

You can now even reduce your bay spacing to pass a heavily-loaded scaffold!
Visit the NEW SMART Scaffolder Website
Why not check out the new SMART Scaffolder website offering more information on the SMART Scaffolder product range,Video Demos, News, Free Downloads, Support with SMART Scaffolder Products. www.SMARTScaffolder.com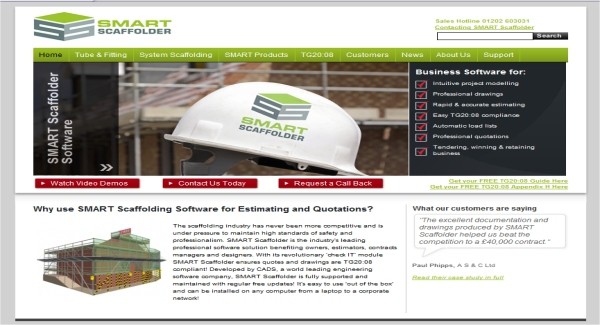 Who are CADS?
Developed by CADS, a world leading engineering software company, SMART Scaffolder is fully supported and maintained with regular free updates! It's easy to use 'out of the box' and can be installed on any computer from a laptop to a corporate network!
CADS is the UK's leading construction software developer, with expertise in estimating, design and drawing technology. When you purchase SMART Scaffolder you join an international community of over 4000 customers. When it comes to software, CADS deliver and support.
For further information:
Tel: 01202 603031
email: [email protected]