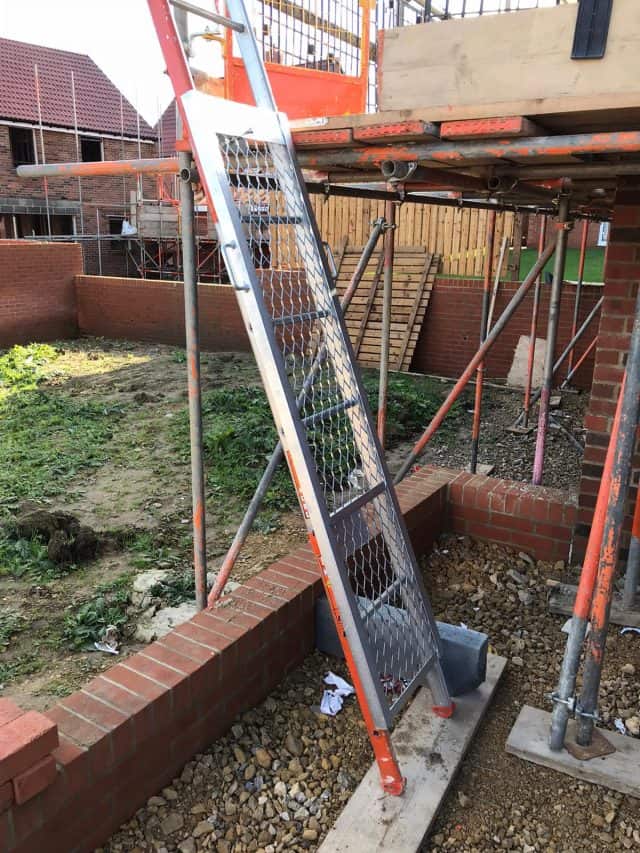 Teesside based JMAC Safety Systems have launched another new product to add to their suite of Health and Safety solutions.
Their new MAC Ladderguard has been introduced to the market this month to offer peace of mind for security on site, and it has already been a hit with some of the UK's most popular House Builders, including 5 Star House Builder Barratt Homes.
With its tagline, One product. One Key. One solution the MAC Ladderguard offers a unique answer to the pain points JMAC is confident all Site Managers will be familiar with.
Compatible with both steel and wooden scaffolding ladders, the unique 'one key fits all' design removes the need for a padlock and chain, therefore removing the need for numerous sets of keys, which can easily be lost and take time to sort through.
The innovative MAC Ladderguard is manufactured using hot-dipped galvanized steel, making it a robust and durable system when exposed to the elements through long periods of time, and an ideal deterrent to prevent unauthorised access onto scaffolding sites.
JMAC say it's been produced with the latest HSE guidelines in mind, the new offering will be an integral part of safety on site. You can read more about the latest guidelines by clicking here.
Speaking with the JMAC Safety Systems Managing Director, Luis McCarthy, he explained:
"Preventing unauthorised access to scaffolding on construction sites is crucial, this could be due to the scaffolding being incomplete or even locking of sections or lifts where certain types of work are being carried and the area needs to be restricted.
"Another major problem we come across is unauthorised access by members of the public, clients and contractors have a responsibility to ensure that unauthorised access onto scaffolding is prevented, not just outside working hours, but also at times when workers are present but unauthorised to work in these areas.
"I've been on sites with up to 100 live scaffolds all with different padlocks and keys and then we evolved to using combination padlocks, even with this change it was a huge pain point for many site managers and difficult to administrate and that's one of the main issues I looked to solve when designing this product, to solve a problem we are all encountering daily."
Kieren Cattanch, newly appointed HSEQ Manager at JMAC Group added:
"Being new to JMAC and seeing the introduction of this fantastic Ladderguard product is a great boost for me in my line of work, I'm grateful to be part of an organisation innovating in so many areas, including Health & Safety.
"Following on from the HSE Safety Alert Bulletin 'CON1-2018 11th July 2018', it's great that Luis & the team have responded so fast and created an answer to the issues these new guidelines have created in the scaffolding industry. I'm looking forward to seeing how the team take this product forward, I'm positive it will be an instant success with all principal contractors and professional scaffolding companies who take their duty of care and pride in their work seriously"
For more information on the Ladderguard, or any of the JMAC Safety Systems product range, you can visit the website at https://www.jmacsafetysystems.co.uk/products/ladderguard/ or email [email protected]