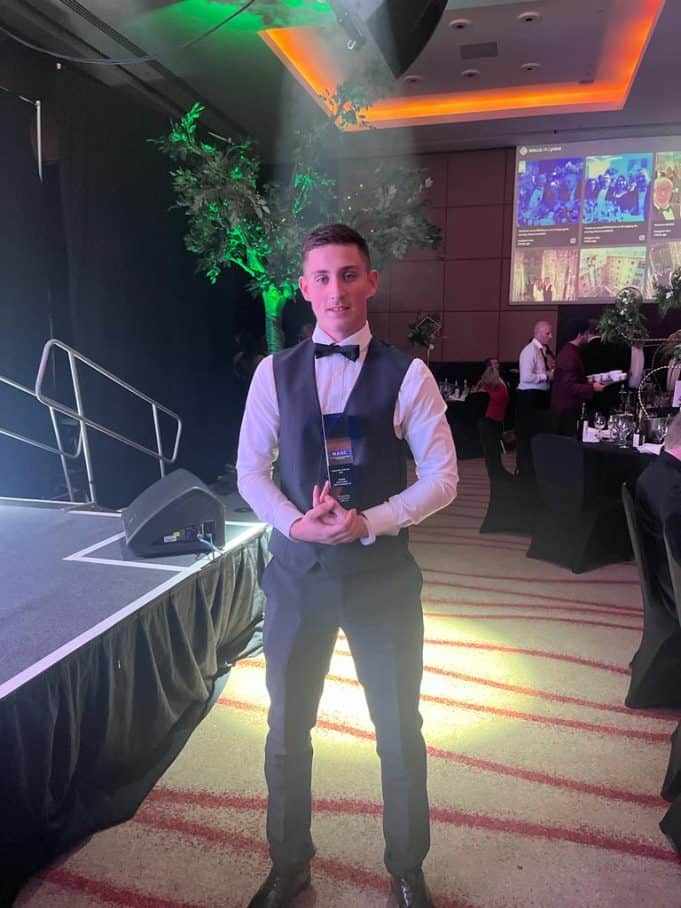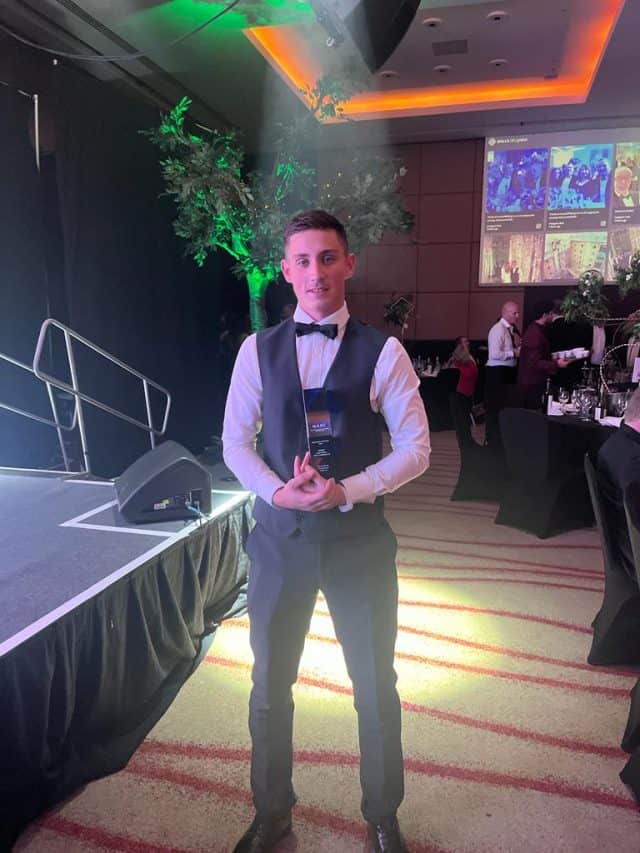 A Stockton-based scaffolding apprentice has been named by the National Access & Scaffolding Confederation as its Apprentice of the Year 2022.
Louie Peebles, 18, of Norton, is currently just over a year into his Scaffolding Apprenticeship working for North East scaffolding firm JMAC Scaffolding.
British comedy legend David Walliams presented the 18-year-old, with his top National Apprentice of the Year award at the prestigious event at the Westminster Park Plaza Hotel in London.
Competing against 3 other UK applicants, Louie was chosen as the overall winner of the award due to his natural skills for problem-solving and for his enthusiasm and diligence which has not gone unnoticed by the JMAC management team, who have been impressed by his attitude and appetite for hard work.
Working across a diverse range of environments already within JMAC, he has shown himself to be a shining star within the business and has a bright future ahead. Required to think on his feet, prepare, organise and understand different issues that can arise on fast-moving construction sites, Louie has proven himself to be a valuable and proactive team member of the scaffolding gangs he works within.
After leaving school, Louie originally saw an advert for a JMAC apprenticeship in May 2021 and started his apprenticeship when the NETA Training Group apprentice entry opened in October 2021. In the intervening time, he worked for 4 months in the JMAC scaffolding yard as a labourer where he enjoyed learning about the basic foundations of scaffolding and took time to learn about different scaffolding components.
All of the testimonies provided by his tutors and colleagues show the strong drive and work ethic he has, alongside the passion he's developed for creating a long career in the scaffolding industry.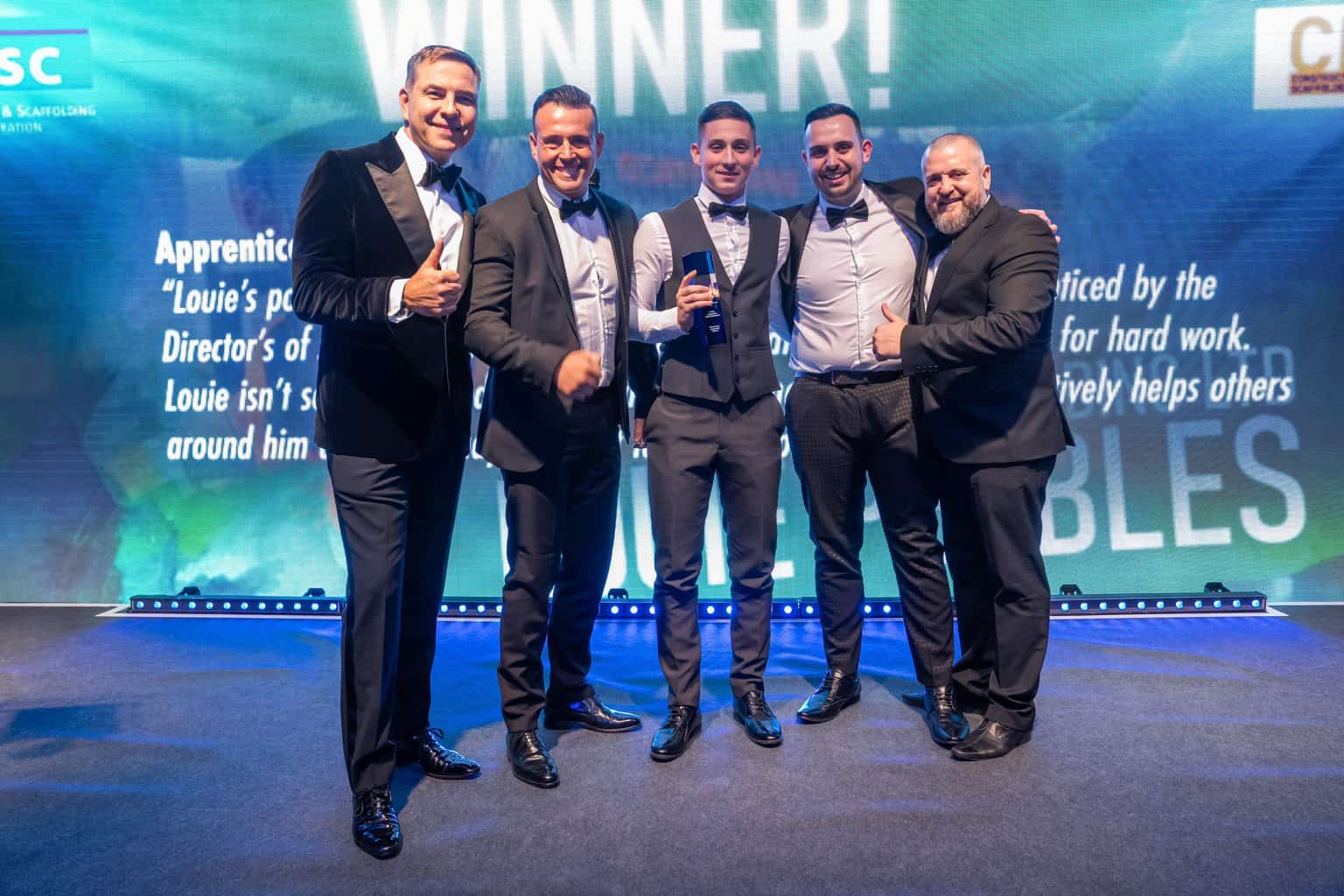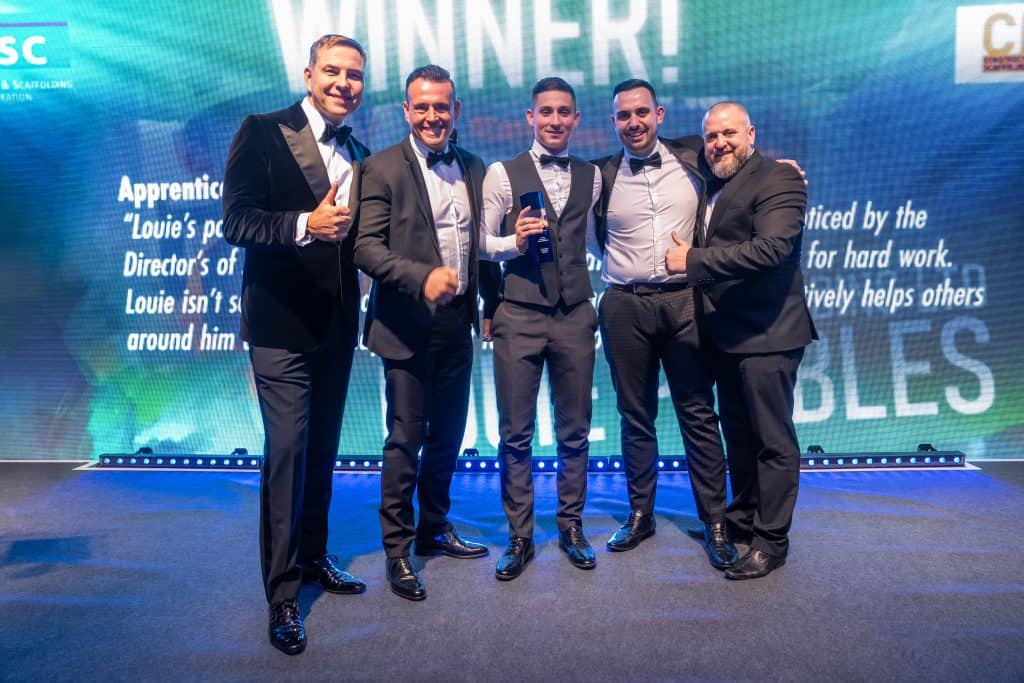 Louie Peebles, said: "I was taken totally by surprise but I am absolutely buzzing to win this award. Despite only being a year in to my apprenticeship, it shows that hard work pays off. It was incredible to have my girlfriend with me on the night to celebrate. Just to be nominated for the award was amazing, and going on and winning it was unbelievable.
I chose scaffolding because I wanted to work in an industry where people were dedicated and committed to working hard."
With only 2 more modules left until he becomes a basic scaffolder, Louie continues to develop his skillset so that he is always thinking proactively to help others and apply the learning gained on his apprenticeship programme to resolve real work issues – in every scaffolding squad he's in and on every site he's on.
Louie won an engraved glass trophy and £500 and the company also won £500, which they also gave to Louie.
JMAC Scaffolding's Operations Director, Ryan Payne, said: "Louie never ceases to amaze us with the quality of his work and his positive attitude. In just a little over a year into his apprenticeship, Louie has shown true commitment and dedication to his job and has become a very valued member of the JMAC team. He has taken the chance he was given in his apprenticeship with both hands, and he's carving out a fantastic future career for himself."
"At JMAC we are proud to have a long history of spotting a good attitude and nurturing and developing homegrown apprentices like Louie and giving new people an opportunity in the industry. It is a testament to all the mentors, training, and our apprenticeship programme as a whole, that we produce top-quality tradesmen and women, throughout the organisation."
"We are unbelievably proud of Louie, and he deserves all the recognition he has received."