The Scaffolding

Directory
Showcase your services
Increase traffic to your website and enhance search engine rankings by adding your business to The Scaffolding Directory.

Charles Edward Road
Birmingham
England
B26 1BU
GB
VR Access Solutions is an BSI 9001-2015 audited manufacture and supplier of Scaffolding and Associated products. VR Access Solutions is founded upon many years of industry expertise. We have a UK based manufacturing facility for our Turnlok system and ancillary products.
Hire & Sales
VR Access Solutions operate from 3 locations in the UK:-
•Basildon •South Birmingham •Glasgow
We offer competitive rates for equipment which can be delivered to your depot or site to suit your program. We also welcome collection by your own transport.
We have the transport capability to deliver to all areas of the UK from a single pallet to a full artic load.
Trade Memberships
Scaffolding Association Member
Services We Offer
VR Design & Safety Ltd offer a full temporary works scaffolding design service with the aim of delivering a high-quality scaffold designs to meet the demands of BS EN 12811-1, TG20:13) and EN1991-1-4:2005. All designs are compliant with BS 5975:2008+A1:2011Code of Practice for Temporary Works.
Design Staff
VR Access Solutions have in house engineers qualified from HNC Civil and Structural to Chartered Engineer status. We offer the following services: –
•Full Design
•Structural Calculations
• Material Take Offs
•New Product Design
•Full Site Survey
•Design Sign Off
•Third Party Checking
Our experienced engineers use the latest software systems:-
• AutoCAD Mechanical
• A3DMax Frame Analysis
• Velenti Wind Analysis
• Smart Scaffolder Drawit
• BIM Tool Box
• Sketch Up with V Ray
Scaffold Design
Our drawings are accurate and detailed for ease of use by scaffolder, temporary works co-ordinators and temporary works checkers.
All drawings and calculations comply with the latest EURO and UK codes for scaffolding.
We produce scaffold design drawings in full colour in sizes ranging from A4 to A0. The drawings can be plotted in house or sent electronically in secure pdf format.
The designs can also be customised to show customers own branding and details. We have extensive experience in the following industry sectors: –
• New Construction
• Demolition
• Off Shore
• Airline Maintenance
• Refurbishment
• Network Rail & London Underground (Producing Form C, for submission)
• Marine
• Power Generation & Line Crossing
Scaffolding Systems
We have the capability to produce design drawings for a range of scaffolding systems including: –
• Easyfix / Readylok Transom
• Tube and Fittings (steel and aluminium)
• Temporary Roofing System
• Turnlok
• Kwikstage
• Haki
• Ring System
Design Checking
VR Access Solutions can also offer design check service for drawings and calculations produced by other designers to meet the requirements of a Category 1 (CAT I), Category 2 (CAT II) or Category 3 (CAT III) design check. These are frequently required as part of a Network Rail design.
Insurances
We hold all the required insurances, namely: –
Employers Liability £10.0 million
Public Liability £5.0 million
Professional Indemnity £5.0 million
Coverage
We provide a World-Wide service for drawings, calculations and off-site advice. We also offer a UK wide site survey service.

You must login to post comments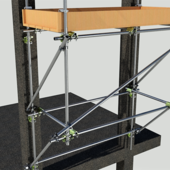 You must login to post comments