A UAE scaffolding company is considering launching its own safety training programme to compete with existing schemes and prosper in the lucrative but safety-intensive oil and gas industries.
Neil Taylor, contracts manager at the Al Futtaim Engineering's Scaffolding & Formwork Division, has highlighted the prospect of a training school internally on the back of a dearth in good scaffolding training schemes in the region and an expected tightening to regulation.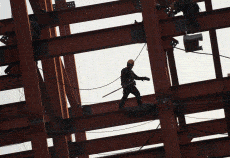 "I've floated the idea to management so we'll see what happens. It is a sellable service – if regulation comes in then companies will have to train their scaffolders better," he told CW.
Taylor says that despite existing safety standards for scaffolding in Dubai – the company's home market – there is little enforcement through fines. Without such pressure, he says, some companies do not enforce standards internally.
"There is no government authority regulating this. Abu Dhabi is pushing on with HSE and training up inspectors who will go on site and fine contractors. The regulation is there, Reg 8, 24, but they are not enforced in the street."
Taylor is also critical of some of the existing programmes that claim to be CITB accredited, a general industry standard, that do not train participants to the required levels.
But this has presented to him an opportunity, particularly in light of the company's strides to improve its safety accreditation as it seeks to win projects in oil and gas – two industrial areas that demand high safety standards from all contractors and have been shining examples of thorough training.
"The majority of our work is with outside contractors and we're looking to move into oil and gas industries, because scaffolding is a big market in these markets," he said.
"The approach to safety is different. In the town [urban-based projects such as those residential and commercial] the safety standards can be pretty grim, though in oil and gas the standards are pretty paramount and you have to comply with British or European standards.
"Companies that work offshore, the contractors, do training because when you're offshore everyone needs to be trained," he added, mentioning CCC, the fabrication company, as a particularly strong example.
Taylor's division provides tailored scaffolding structures and has supplied systems used at the top of the Burj Khalifa and the Burj Al Arab among other notable projects. But the oil and gas markets are likely to present a healthy source of revenue in the next few years if contracts can be secured, he says, due to the typically longer duration of contracts and more reliable payment structure.
Barry Furlong, director and general manager UAE at Harsco Infrastructure, which last year brought Quebeisi SGB and Hunnebec, two subsidiaries, under a single banner of Harsco Infrastructure, also attests to the opportunities in the oil and gas markets, with slight differences between contracts deriving from maintenance work as from new projects.
"Maintenance work tends to be longer, so you may be locked in for 2-3 years, so that's a steady stream of income," he said.
Source: Construction Week Online