The death of a Highland scaffolder who fell 130ft from an oil rig was an "unforeseeable tragedy" that could not have been prevented with extra safety regulations, a sheriff has ruled.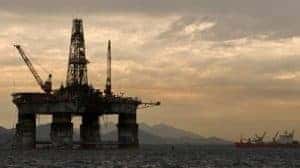 Lewis MacDonald, 35, died after falling from the Ocean Princess rig, which was docked at Invergordon harbour on the Cromarty Firth, on November 28, 2008.
A fatal accident inquiry at Tain Sheriff Court last July heard evidence from colleagues who were working with him on the revamp and maintenance of the semi-submersible rig when he fell to his death.
The inquiry was told that Mr MacDonald, of 39 Milnafua, Alness, fell to the sea below after stepping on a corroded metal grating on the deck of the rig, owned by Diamond Offshore Drilling.
A scaffolding barrier was set up around the unsafe grating, while wooden planks were placed on most of the exposed patch.
As Mr MacDonald was adjusting the scaffolding, he stepped on to an uncovered part of the grating, which gave way under his weight.
In his official judgment, published yesterday, Sheriff David Sutherland called the death of the "skilled and experienced scaffolder", who worked for Invergordon-based McDonald Scaffolding Services, a "tragic accident".
He said: "We will never know why Mr MacDonald chose to climb over the barrier rather than simply walk round about 30ft to the other side of the enclosed area.
"Whatever the reason for his actions, they would appear to have been completely unforeseen and, I consider, unforeseeable in all the circumstances.
"Given the evidence before me, I do not consider that either McDonald Scaffolding Services or Diamond Offshore Drilling should have taken any other prec- autions to avoid an accident." A spokesman for Diamond Offshore Drilling said yesterday: "Our sympathies go out to the man's family but we feel it would not be appropriate to make any further comment at this time."
No one from McDonald Scaffolding Services was available for comment last night.
Via: www.pressandjournal.co.uk