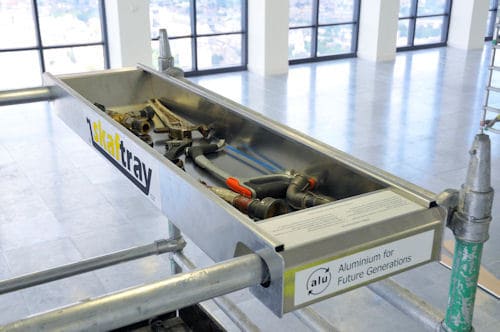 For years site operatives have had to use their imagination when working at heights. Nothing wrong with the scaffold towers, but what to do with all your tools, pieces of equipment?

Ever resourceful, tradespeople have pressed into service everything from milkcrates to cardboard boxes to planks of wood in an attempt to find somewhere to store those essential items close at hand.
Now there is a better, safer and more convenient way…Skaftray.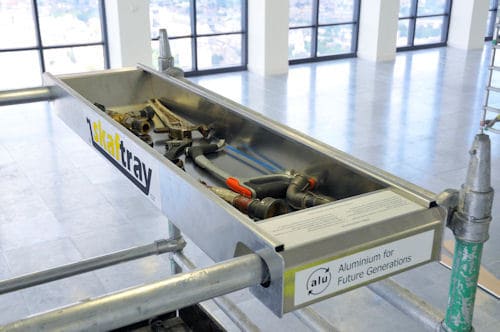 The Skaftray, designed and built in the UK, can be added to any scaffold tower, podium steps or MEWP to improve safety and productivity.
Users of scaffold towers have long improvised methods for holding and storing tools and materials while working at heights. As a result, fellow workers and innocent bystanders have been at risk to falling objects as the user juggled to keep everything in place while trying to complete the task in hand.
Health and safety inspectors regularly criticised the practice of precariously balancing items on wooden or makeshift planks placed across the top of the access equipment. The developers of Skaftray had been struck by how often they had witnessed such scenes and decided there had to be a better way.
Safety aside, the amount of time wasted while a site operative climbs to the top of the tower only to discover they have left vital bits of equipment at the bottom and has to clamber back down again is addressed thereby improving productivity.
Light in weight, but able to hold a recommended load of 20kg, Skafray is robustly built from either HDPE or aluminium, both of which are 100% recyclable. It can be fitted to any standard scaffolding tower or podium steps. It is slotted over the tower side rails, adjusted to fit any dimension of rail and then latched using a simple securing device at one end. This means that, even if the tray is moved at one side, it will remain secured in position to avoid accidents.
It is spacious enough to contain large tools and materials, relatively large pieces of equipment and general items for all manner of construction, maintenance and repair tasks.

Development of the Skaftray
The Skaftray has been developed by a team of construction industry veterans and scaffolding experts determined to get to grips with the problem of tool storage on scaffolding towers once and for all by giving operatives an easy to use, lightweight method for organising their equipment conveniently and safely.
The designers worked with a design team from the University of East London and incorporated expert advice from the Prefabricated Access Suppliers' and Manufacturers' Association (PASMA) before producing a prototype design. Full production is due to begin in October with details of how the product will be distributed to follow.
Health and safety experts have welcomed this development as it substantially reduces the risk of falling items while working at heights, while employers and clients have quickly grasped the productivity potential.
Further information
For further information on this product please visit the Skaftray website