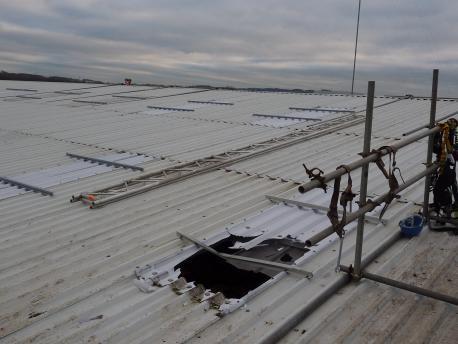 A scaffolding firm has been fined £75,000 after a 42 year-old scaffolders labourer fell 12 meters to his death.
Father-of-one 42-year-old Anthony Causby, who worked for Atherton based S&S Scaffolding, was carrying materials from scaffolders dismantling scaffolding when he stepped onto a fragile skylight and fell 12 metres onto a concrete floor.
The tragic death plunge occurred at the raw materials warehouse at the Walker Snack Foods, Skelmersdale on December 14, 2010.
S & S Scaffolding Ltd, pleaded guilty to a Health and Safety offence involving failing to ensure the safety of its employees.
Following a two day hearing Judge Graham Morrow, QC. said that the company had fallen "significantly" below the requisite safety standard.
The leighjournal.co.uk reported that he described their control measures as "inadequate and poor" and said the extent of the danger risk had been under-estimated and a safety barrier should have been extended beyond the area of one of two skylights in the immediate vicinity.
Liverpool Crown Court heard that the accident occurred after employees went back to work after lunch.
Anthony Causby's work colleague said:  "For some strange reason Tony walked in between the barrier scaffolding and the hand rail and stepped across the skylight as if to walk back towards the site where he was last working.
"I was hardly six feet away and he stepped directly onto the skylight which immediately gave way and he fell through it."
Judge Morrow said unlike the scaffolders Mr Causby did not have to have his harness clipped on as his job involved constantly moving across with roof with scaffolding tubes.
He said that possibly the victim chose the route he did either to pass Mr Ellis, who was putting his coat back on, or as a short cut.
"The reasons why he made this fatal error are unclear," said the judge, accepting that Mr Causby had had "tool box" safety talks both on the ground and on the roof and the skylights had been pointed out as a hazard and he was shown a designated route which would take him away from them.
But Judge Morrow said: "The method adopted by placing a double hand rail in front of one of the skylights was wholly unsatisfactory.
"The defendants accept they could have done more to protect him. They could have extended the barrier to make it more difficult to get round or could have covered the skylights.
He said that S & S was a family company currently with 19 employees who were currently working short time. It had a good safety record and was well regarded in the construction industry.
Since the tragedy it has spent extra on training and introduced new safety measures.
"The company has learnt a lesson which needed to be learnt," he added.
Mr Causby's partner, Debra Wyley, 44, said: "It is difficult to put into words how Tony's death has affected our lives. I feel our son is missing out on so many things that his dad would have done with him, like football, rugby and taking him swimming.
"I started having panic attacks and wouldn't go out because I felt people were looking at me because of what had happened. I rarely go out to socialise and hate mixing with other families and attending family dos.
"I miss Tony so much. He was such a big part of our lives and was very close to my family. He often did jobs for them – even my mum and dad who live in Spain."
Speaking after the hearing, HSE Inspector Jacqueline Western said:
"Mr Causby died because S&S Scaffolding didn't do enough to protect him from the risks of working at height, despite being a specialist scaffolding firm and being fully aware of the dangers of falls.
"It would have been relatively easy to cover the fragile skylights near to where the employees were working to prevent anyone from falling through if they accidently stepped on one.
"Alternatively, netting or crash mats could have been provided under the skylights to reduce the chance of a worker being injured if they fell.
"Sadly, none of these options were chosen by S&S Scaffolding and Mr Causby lost his life as a result."
Judge Morrow fined the company £75,000 plus £31,517 prosecution costs and ordered them to pay this at the rate of £5,000 per month.