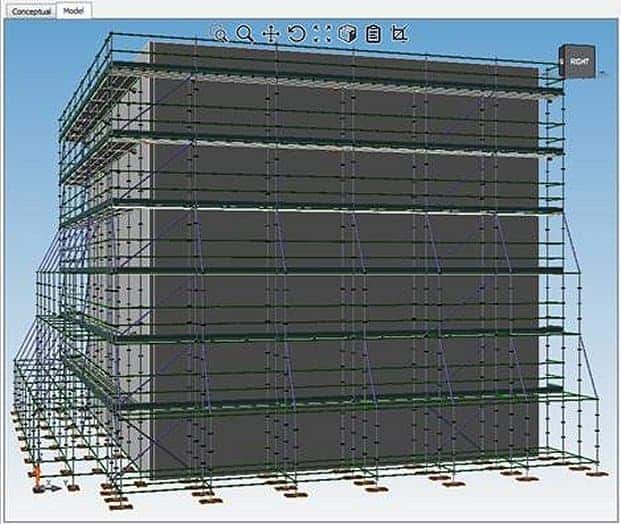 In its continued commitment to the UK scaffolding market, Avontus has announced that its Scaffold Designer software can design and estimate TRAD Hire & Sales' Plettac Metrix System Scaffolding.
The Plettac Metrix suite of components is available today for all Scaffold Designer end-users. No software upgrade or additional purchase is required.
"We finished full Plettac Metrix support in a few weeks", says Avontus CEO and Founder Brian Webb. "Scaffold Designer was built from the ground up to easily add systems scaffolding from any manufacturer." In just a few button clicks Scaffold Designer can fully support the Plettac Metrix product catalogue. 
Scaffold Designer's flexibility allows you to create very complex structures, like buttresses, without double counting any of the parts.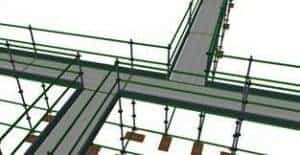 In addition to the standard catalogue components it is common for system scaffold companies to order custom-sized parts for larger projects or to purchase non-standard lengths at a discounted price. Scaffold Designer allows end-users to add these custom lengths themselves unlike other software that might require the cost and delay of having to pay developers and wait months or even years for a software upgrade. End-users can also use their own part numbers with these materials.
Not only does Scaffold Designer support Plettac Metrix System Scaffold, the existing TRADLOK and TRAD Stair Tower system can be used in Scaffold Designer. TRAD Uniguard Safety Panels, ladder access, intermediate transoms, loading bay gates, decking, and other components are all available.
For large, complex structures like their recently-announced support for power plant boilers, Scaffold Designer exports to a 3D wireframe model that can be used in the advanced structural analysis software SCIA Engineer.
Scaffold Designer complements Avontus's other software packages, such as Avontus Quantify that can estimate, track, ship, and create hire invoices for your entire product line.
You can purchase a full Scaffold Designer license or sign up for a no-contract, month-to-month subscription. Contact Avontus for more details. A free trial is also available.
Tel: +44 0122 392 6298
Email: [email protected]
Avontus and Quantify are registered trademarks of Avontus Software Corporation. TRAD, Plettac and Metrix are all are registered trademarks of either TRAD or the Altrad Group.