48.3 Launch two day introductory Scaffold Design Courses.
ScaffMag has gained exclusive access to the first prestigious 48.3 Scaffold Design Appreciation course of 2016, which is part of the 'Secrets of Scaffold Design' series. Due to overwhelming demand the two day course held in Leeds has already sold out.
Next week we will be providing a full exclusive report and live updates about this new exciting and highly desirable course from the industry leading design firm that is 48.3 Scaffold Design.
The two day Scaffold Design Appreciation course will help to equip individuals, teams and organisations with scaffold design expertise to enable them to increase their knowledge base, improve their service level and win more business. Many roles within a scaffolding company (estimating, supervision, project & contract management and surveying etc.) will benefit from understanding the latest technical scaffolding requirements in more detail. The course is specifically aimed at non-technical staff and developed with those people in mind.
The course includes:
An Introduction to Scaffold Design Principles.

Expert Tuition in Scaffold Design from 48.3 Design Engineers.

CDM 2015 compliance, TG20 and SG4 all covered.

Theoretical teaching, group exercises, practical examples and models.

Complete 115 page course manual for all delegates.
This course will provide the most significant benefits to:
Advanced Scaffolders, Supervisors, Contract Managers, Inspectors, Health & Safety Professionals and Scaffolding Business Owners.

Procurers of Scaffolding and Scaffold Design, anyone writing scaffolding schedules or design briefs.

Engineers completing Scaffolding Design Checks.

Temporary Works Coordinators (TWC) and Temporary Works Supervisors (TWS), or anyone who manages scaffolding and access as part of your job role.

Anyone interested in scaffolding design who wants to know more.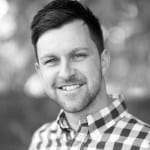 Ben Beaumont, Managing Director of 48.3 Training said: "We are really pleased with how this course has been received so far and the feedback from the last course in 2015 was tremendous. February will be the first time we have delivered the course in London and if demand is anything like it has been for our sold out courses so far, then places will go quickly!"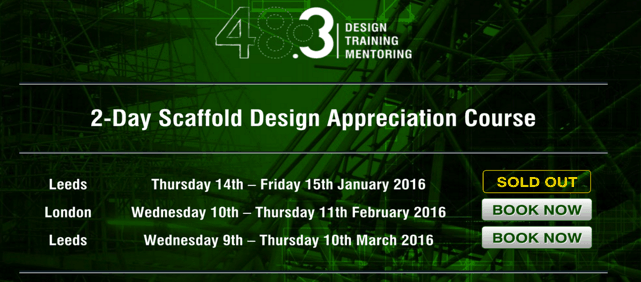 Places on the 2-Day course cost only £597 per person (exc. VAT), and you can claim part of that cost back if you are registered with the CITB.
Places are strictly limited and available on a first come, first served basis.
Leeds: Thursday 14th – Friday 15th January 2016 – SOLD OUT
London Wednesday 10th – Thursday 11th February 2016 – PLACES AVAILABLE
Leeds Wednesday 9th – Thursday 10th March 2016 – PLACES AVAILABLE
Find out more and book online today at:  www.483training.com