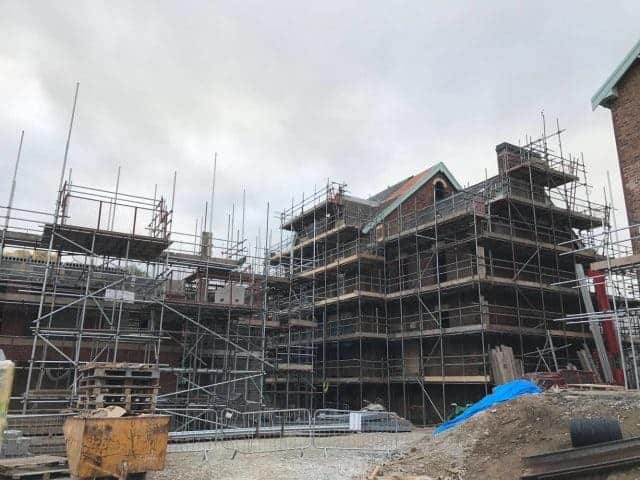 P&D Scaffolding Limited, then based in Bristol, was bought out of receivership at the start of 2016. By the summer of last year the owners had also acquired Northgrant, one of the South West's longest established scaffolding firms. Now, following large-scale projects in Wrexham and Blackburn, P&D Scaffolding has moved its operations to the Northwest and has a number of Liverpool jobs in the pipeline.
P&D Scaffolding Limited was failing when it was bought by James Proudfoot in January 2016. In just a few short months, Mr Proudfoot turned the company's fortunes around and welcomed Liverpool based Richard Anderson on board as his business partner. Together, the pair landed a number of high-profile public and private sector clients, including Lloyds Bank, Halifax and Virgin, amongst others. Then, in June 2016, they undertook the purchase of Northgrant Scaffolding, a Bristol company with 30 years of experience and a great reputation.
The pair's most significant client win to date has been construction company Keepmoat Homes. The relationship with Keepmoat has been instrumental in facilitating P&D Scaffolding's move to the Northwest. P&D Scaffolding is currently working on two Keepmoat sites, one in Wrexham and the other in Blackburn, playing its part in the construction of two nursing homes. To support the Northwest expansion, P&D Scaffolding has now moved its head office to Widnes. Several sites here in Mr Anderson's home city of Liverpool are in the company's pipeline. Announcements will follow soon. With over 12 new positions created in Liverpool and hopefully more as projects grow.
Business partners James Proudfoot and Richard Anderson now own and operate two thriving scaffolding firms – Northgrant and P&D. The firms are based, respectively, in each of the partner's home territories of Bristol and Merseyside. Building on Northgrant's 30 year track record down in the Southwest, their current focus is on establishing the same great reputation for P&D up in the North. By partnering with Keepmoat, a UK market leader in the house building industry, they are off to a flying start.
Richard Anderson, co-owner of Northgrant Scaffolding and P&D Scaffolding said:
"We are really pleased with how the Northwest move is playing out so far. Down in Bristol our aim is to do great work using a reliable, experienced, local team. We have brought those values north with P&D Scaffolding. I was born and raised in Liverpool and now, as part of our commitment to create jobs in the area, the entire P&D Scaffolding workforce is made up of Liverpool locals.
"We are already on site in a few locations around Northwest and will be in a position to announce our next projects very soon. At the moment I am most excited about our imminent move into Liverpool's booming construction market. The Liverpool economy has been growing for years now and everywhere you look there are fantastic new developments happening. It feels good to be able to play a part in the ongoing regeneration of this special city.'