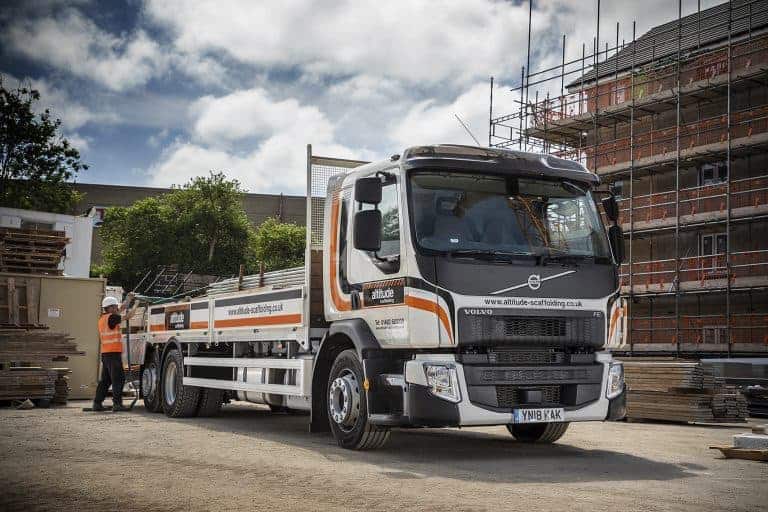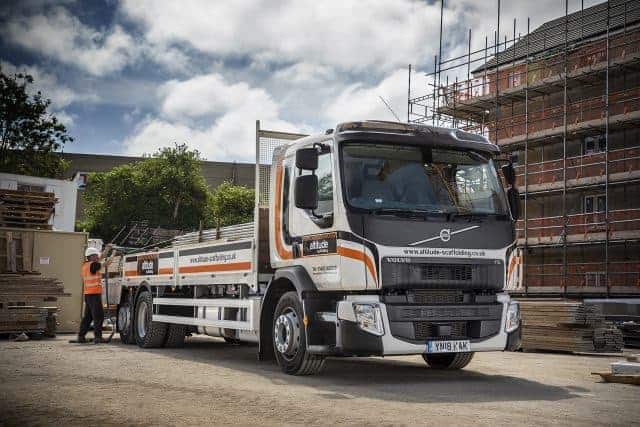 Hull-based, Altitude Scaffolding has added two Volvo FE 26-tonne rigid trucks to its own account transport fleet.
The trucks are the first brand-new heavy vehicles bought by the company, in addition to being the largest types operated to date.
From its base in Freightliner Road, Hull, Altitude Scaffolding predominately works across central England, but the company does, as with previous contracts, operate across the UK and Ireland. Supplied by Pete Atkinson, Area Sales Manager at Crossroads Truck and Bus Limited in Hull, the two Volvo FE rigids are powered by Volvo D8K Euro-6 engines rated at 320hp. Behind the power plants, Altitude Scaffolding opted for Volvo's award-winning I-Shift automated transmission system with 12 gears. The low height chassis are fitted with drop-side scaffold bodywork, which was specified with a 9,000mm length and a width of 2550mm.
Malcolm Black, Operations Manager at Altitude Scaffolding has a long career association with Volvo trucks that stretches back to the F12 and FL10 models.
"We have a mixed marque fleet, but the Volvo trucks we've previously bought second-hand have always been reliable," he reports, explaining, "The company required vehicles with a larger payload capacity to deliver bulk supplies of scaffolding to out of town jobs."
"The 26-tonne Volvo FEs tick a lot of boxes for us. We can deliver enough supplies to keep a team of scaffolders busy for days and the optional third cab seat means we can also move crew members if required," continues Malcolm adding, "the scaffolding equipment we carry is heavy, but fully-loaded, the FEs will only be operating at around two thirds of their maximum gross operating weight. This means less wear and tear on the trucks and of course, keeps us right with legal compliance."
"Our drivers are 'over the moon' with the FEs and are a massive step up from what we had," Malcolm concludes.