A highly anticipated hot new 2020 Crossway Scaffolding Charity Calendar is finally available to be purchased by the public.
Released to coincide with World Mental Health Day on 10th October, this latest creative offering has been carefully constructed to both bring delight and raise much-needed funds for Andy's Man Club.
"A spokesperson told ScaffMag: "This calendar was the brilliant idea of one of our long-serving scaffolders Andy Butterworth and has been eight months in the planning. Special thanks to the fourteen amazing Crossway employees, Andy, Ben, Dave, Simon, Jack, Brandon, Ian, John, Sean, Matt, Kevin, Peter, Lee and Joshua who volunteered to bare all, in order to raise mental health and well-being awareness and monies for Andy's Man Club."
This invaluable club is run exclusively by unpaid volunteers each day from central Halifax in West Yorkshire. Born from Social media it enables people to get together, able to talk with like-minded souls about mental health and the day to day problems it can bring.
Every penny donated to Andy's Man Club goes directly into the movement helping create new groups. It's now a registered charity and growing nationally and internationally all the while.
The calendar follows on from what was a successful fashion show organised back in May with the result, £2,500 was raised. It carries a theme this year of 'suicide prevention', with the aim of gently spreading the message, we need to do much more about the problems of mental health.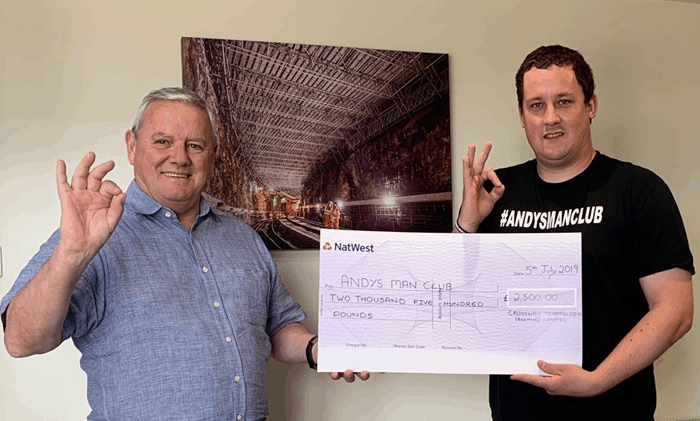 Its official launch of the calendar will take place on World Mental Health Day –  a day for global mental health education, awareness and advocacy against social stigma. It was first celebrated in 1992 at the initiative of the World Federation for Mental Health, a global mental health organization with members and contacts in more than 150 countries. Thousands of supporters come to celebrate this annual awareness program to bring attention to mental illness and its major effects on peoples' life worldwide.
The calendar is set to prove extremely popular, so the advice is get your order in as quickly as possible.
To pre-order or purchase calendars, please contact Crossway Scaffolding on 01422 370033 or email [email protected]