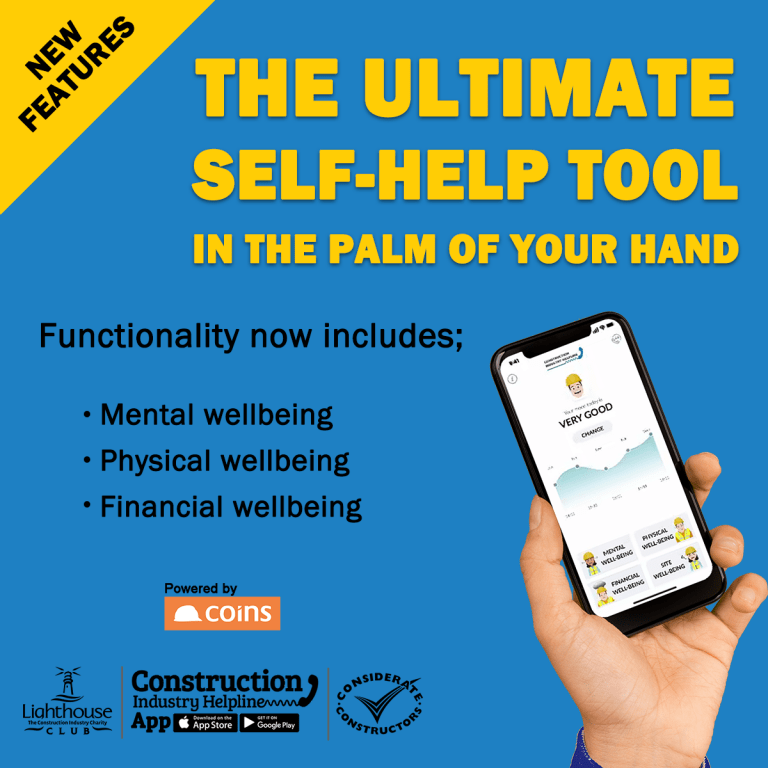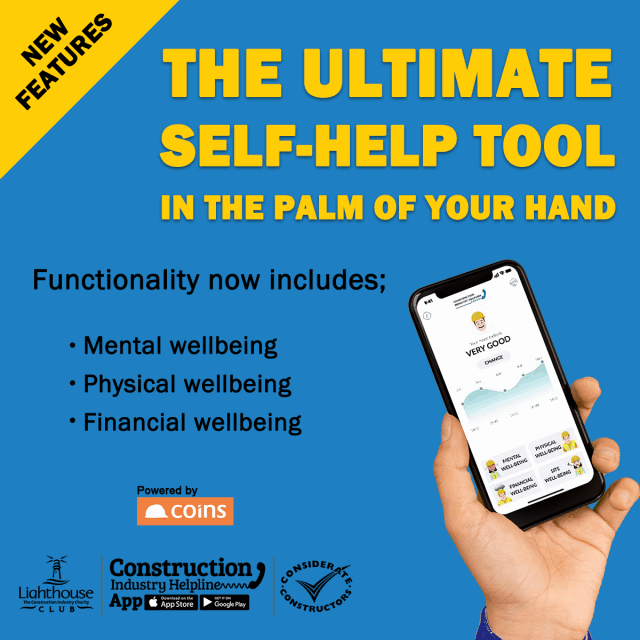 A new feature-rich upgrade of the Free Construction Industry Helpline App has been released to support Mental Health Awareness Week
Along with technology partners COINS, the Lighthouse Construction Industry Charity's free App has been upgraded with some fantastic new features just in time for Mental Health Awareness Week.
The new features focus on preventative tools and building resilience in the areas of mental, physical, and financial wellbeing and guides users through a series of questions to provide the best possible information, advice and guidance. 
Each section of the app offers learnings about a variety of conditions or issues, self- assessment tools, coping strategies and referral pathways to access expert advice and support. 
The charity's mission is that "no construction worker or their family is alone in a crisis" and this new version of its popular self-support app complements their free 24/7 Construction Industry helpline and their free online "Lunch and Learn" wellbeing courses. 
Along with the industry-leading Building Mental Health initiative that now has nearly 500 companies signed up to its charter, the charity is already helping to drive significant change through the construction industry, concentrating on making all aspects of support and training relating to wellbeing as accessible as possible by making them free at the point of use. 
The latest updates to the app come at a time when the industry desperately needs support. Taking the first step in seeking help with personal issues can be daunting but the app offers people self-learning and coping strategies so that they can help themselves or if necessary, take the next step in seeking professional help. 
Key support areas include: 
Mental Wellbeing; covering anxiety, depression, anger, suicidal thoughts, sleep and building  resilience 
Physical Wellbeing; covering aches and pains, nutrition, weight management cancer, alcohol and drug addiction.
Financial Wellbeing; covering budgeting, debt management, tax and legal advice, retirement planning and emergency financial aid. 
The app is not only free and simple to use, it now accesses a major researched library of resources on a vast array of topics and brings them all together in one application. The 'get help' function is particularly useful as the built-in geolocator signposts users to support from both national help centres and local support services contextualised to the subject being investigated.
Bill Hill, CEO of the Lighthouse Construction Industry Charity said: "By making all our proactive and reactive construction worker wellbeing and welfare support services FREE and totally confidential, we hope to remove all barriers of access.
By doing so we move one step closer to our mission "that no construction worker or their family is alone in a crisis". But we cannot do this without the support of our industry and industry suppliers. A huge thank you is extended to the team at COINS who have worked so hard to ensure that we are ready to share this vital wellbeing support tool at a time that it is most urgently needed. Everyone in construction should have this App on their phone." 
With over 35 years of developing software solutions for construction, leading construction software company COINS are passionate about supporting the industry."
CEO, Robert Brown said: "Collaborating with the Lighthouse Construction Industry Charity in developing this important app has been a privilege. It is our way of giving something back to the industry that we are passionate about helping. It is a tool that we hope will be a great help to both construction workers and their families when they need it the most, especially during these difficult times"
The free Construction Industry Helpline mobile App for Android and iOS is available to download now.