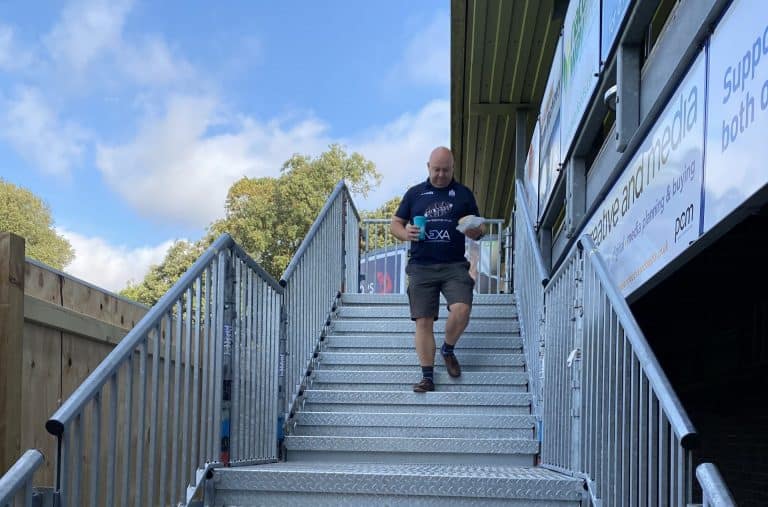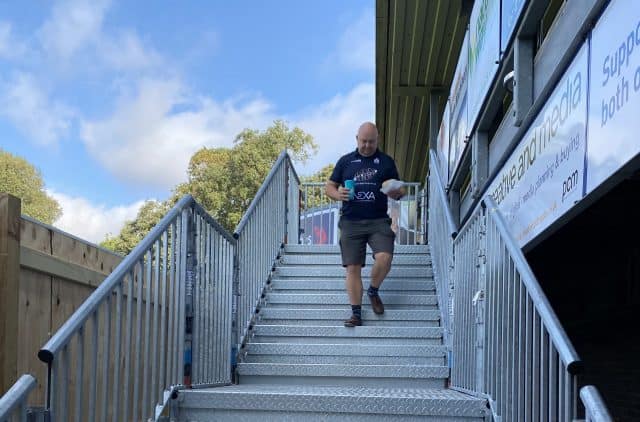 Chichester Rugby Football Club and NJS Scaffolding have created a COVID-SAFE crowd-management system utilising HAKI's Public Access Stair 
For Chichester Rugby Football Club (CRFC), like many other UK community sports clubs, the COVID-19 coronavirus lockdown imposed on the nation in March 2020 meant closing doors that had long been open, bringing their sport and use of their clubhouse to an abrupt halt.
And, when the UK Government finally announced that businesses and venues could start reopening between July and August 2020, it was met with mixed emotions of relief, excitement, and apprehension from all club members, due to strict safety guidelines imposed.
Within Chichester RFC's clubhouse, "The Oaklands Pavilion", crowd-management was the main challenge to overcome. Due to the narrow staircase entrance, the club needed to implement a one-way travel system into, around, and out of pavilion before welcoming back any members and visitors. Local to and long-standing supporters of Chichester RFC, NJS Scaffolding was contracted to help deliver on this specific requirement to get club members back into the clubhouse safely, and the bar and restaurant business back up and running. 
NJS purchased a 3-meter-high Public Access Stair (PAS) from HAKI to facilitate an exit route from the stand, as part of the one-way system. The temporary stair, compliant with building regulations for public access and egress, boasts a strong 7.5kn/m² loading capacity, exceeding the required footfall of staff and visitors during the coronavirus outbreak. It also offers favourable safety benefits of non-slip treads and child-safe handrails and is robust enough to withstand an extended period of time without replacement. In this particular case, an in-line PAS was suitable, but the product also allows for a spiral configuration.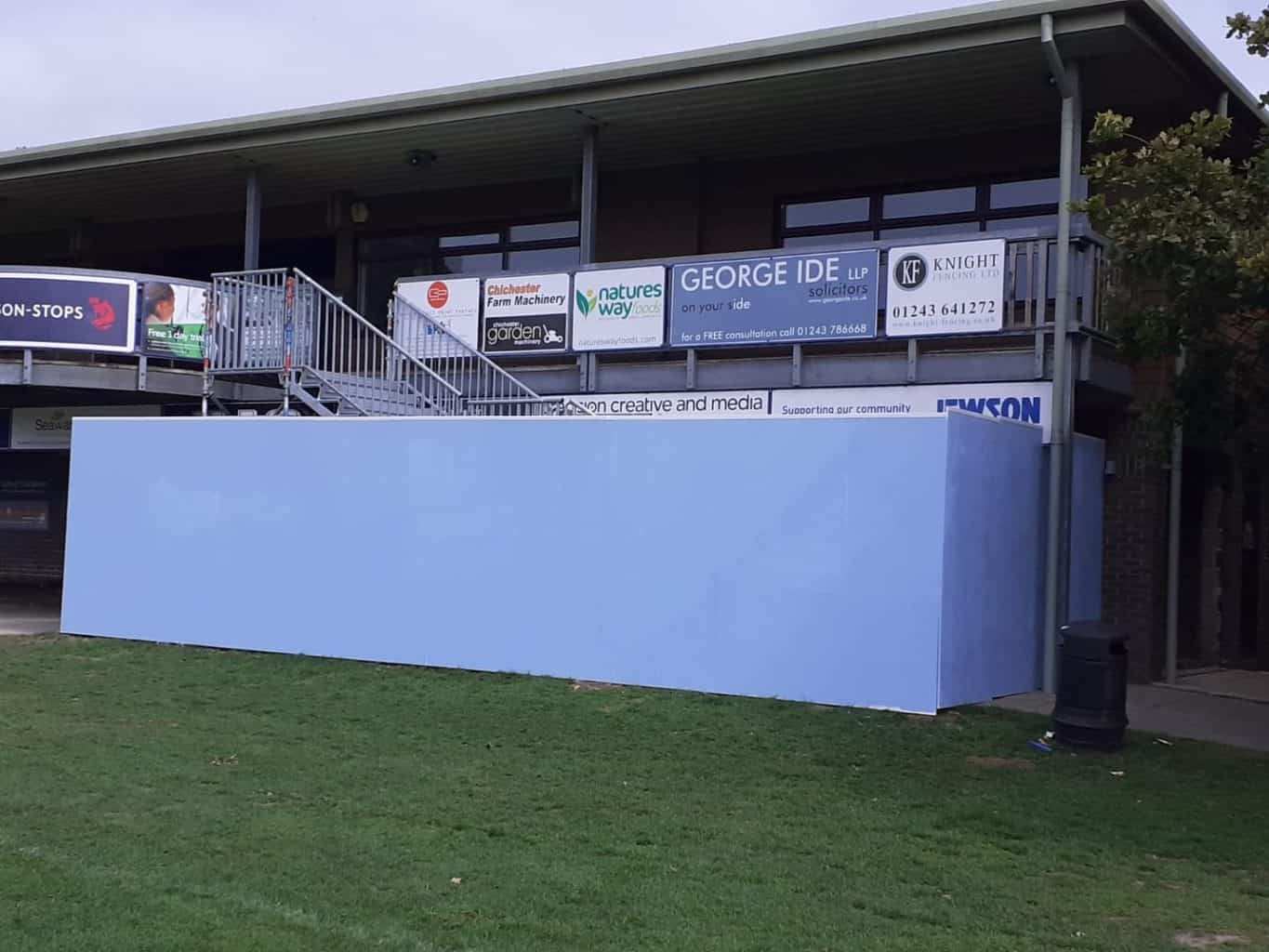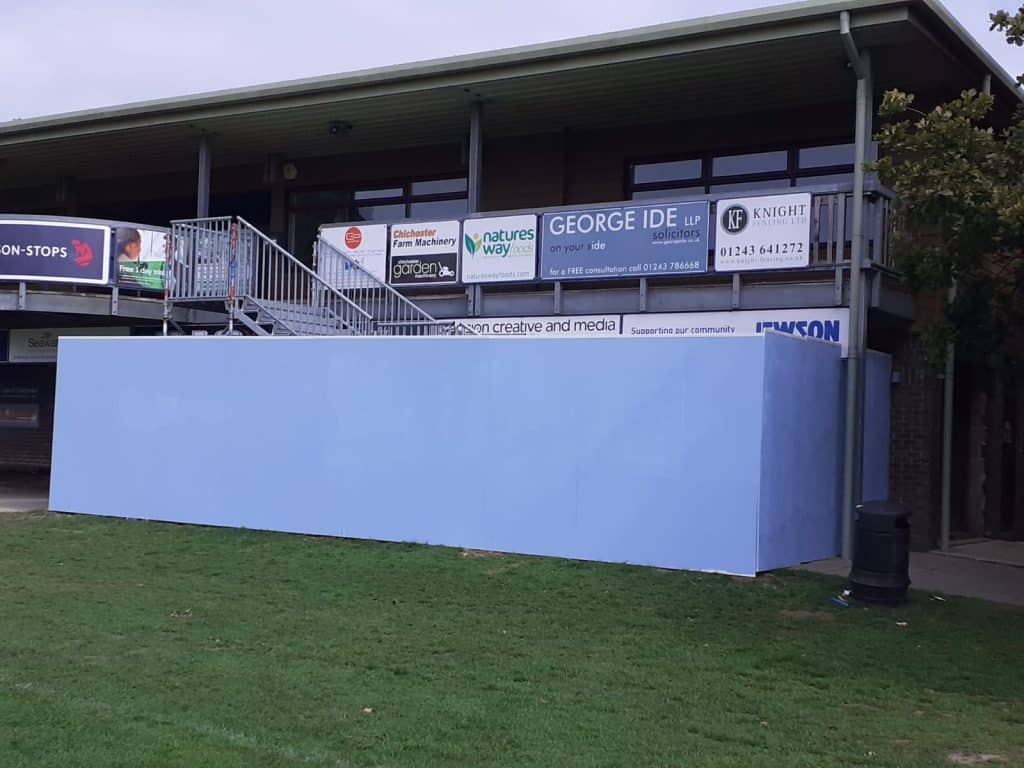 The speed and efficiency inherent to the HAKI system, combined with NJS's familiarisation of the product range, resulted in the extremely quick lead and erection times needed so CRFC could reopen on time and take part in the RFU's nationwide "Pitch Up to Rugby" weekend on Saturday 12th and Sunday 13th September.
Over 400 members and visitors were able to use the clubhouse because NJS and HAKI had provided the safe and timely means of access.  Without the staircase, the clubhouse would remain closed.
RAdm (Rtd) Paddy McAlpine CBE, Chichester RFC's Chairman, was extremely grateful to both HAKI and NJS: "Without the efficiency of both companies and the excellence of the equipment provided, our clubhouse would remain closed and we would have undoubtedly failed as a community rugby club and a business venture. Their contribution has helped assure the survival of a rugby club, that was established in 1926. Every single member, from 6 to 60 years old, would like to pass their sincere thanks".  
Chris Betsworth, Contracts Manager at NJS, commented on the project and relationship with HAKI: "The HAKI PAS really was the perfect solution for this project, and it was made so much easier with the support from all at HAKI to deliver the solution so quickly."