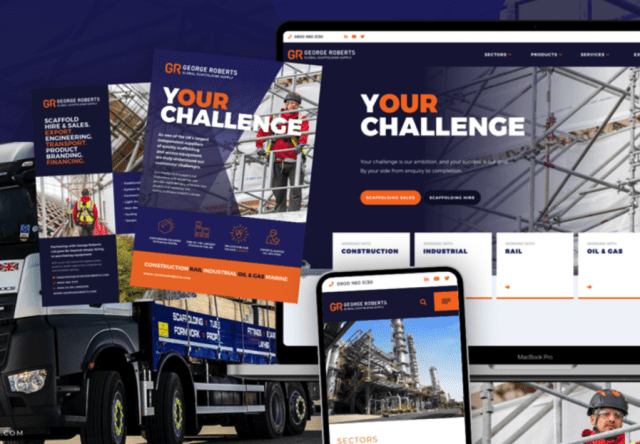 George Roberts Ltd, one of the UK's leading independent suppliers of quality scaffolding and access equipment, has unveiled its global rebrand which will be launched across the industry.
George Roberts fresh new look signifies the progressive direction of the company and matches the evolution of its products, which consistently meet the daily challenges of its customers around the world.
One of the key drivers for the rebrand was to demonstrate that George Roberts Ltd is expanding, the company said today.
Its expanding on all levels with wider international growth, a greater product offering, increased reliability and safety measures, alongside its ongoing commitment to support its customers to deliver their projects.
George Roberts Ltd says it holds a unique position within the construction industry as it offers expert advice across all sectors and has arguably the largest stockholding in the UK.
The well-known Liverpool based business also provides nationwide delivery within 48 hours.
Its global rebrand and its key values have been predominantly showcased throughout their new revitalized website www.georgeroberts.com, modernised logos as well as a fully co-ordinated Customer Service line to ensure a 360 approach across all communications, which will be supported with campaigns in all channels.
George Roberts Ltd, who works with many leading brands at the forefront of the industry, will utilize the new platform to showcase the fact that it is a solutions-focused company, with over 25 years' of history within the industry, and working across a wide range of sectors such as the Construction, Industrial, Rail, Oil & Gas and Marine industries. 
Danny Wood, Sales Director at George Roberts said: "We are absolutely delighted to launch our new and innovative approach for George Roberts Ltd as it encapsulates our company values and demonstrates our forward-thinking mantra for the years ahead.
Our customers operate in complex and demanding situations and it is imperative that we are quick and agile in our thought process which is why we wanted to build a new brand identity which showcases that we are moving with the times whilst retaining our clients' needs at the core of our business.
This new look for George Roberts will also cement our place as a globally recognised company who offers a truly reliable service with a cost-effective solution for our customers – wherever they are in the world."