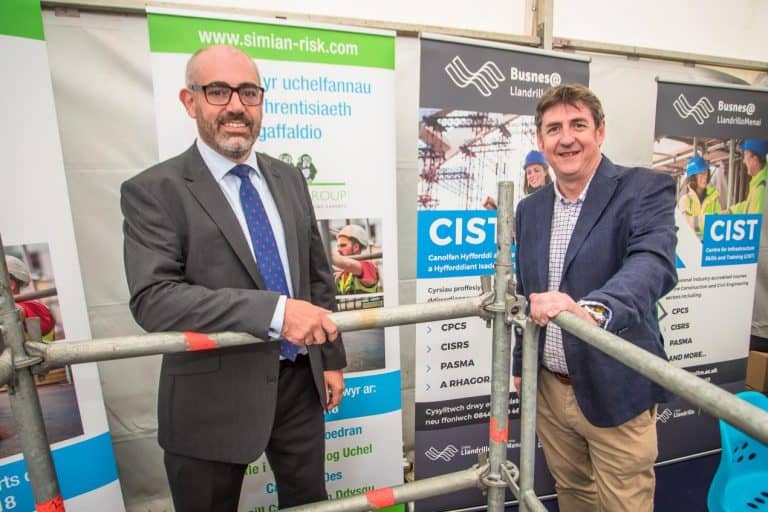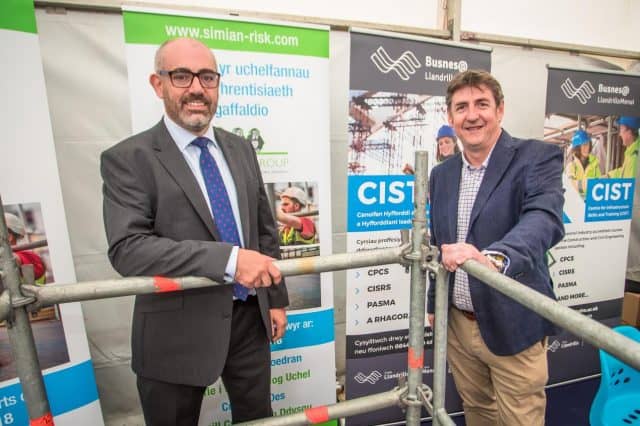 Ambitious plans for the construction industry in North Wales have taken a step forward with the opening of an accredited training facility for scaffolders.
The new £2.1m training facility at Busnes@LlandrilloMenai's Centre for Infrastructure, Skills and Technology (CIST) at Llangefni, Anglesey is supported by the Welsh Government Energy Island funding and enables the CIST Centre Llangefni to expand its portfolio of industry accredited commercial courses available in North Wales.
Previously those wishing to access accredited scaffolding training would have to travel to centres in the North of England or West Midlands, though now students learning the skill will begin their studies in North Wales for the first time in March.
The new CISRS accredited training provision at the CIST facility is a commercial partnership with scaffolding specialists Simian Risk Management Ltd and means employees can now stay in Wales for their training.
Dr Paul Bevan, Executive Director for Commercial Development, said: "The accreditation of the scaffolding centre at CIST is just the latest addition to an expanding portfolio of accredited training for the building and engineering industries.
"As well industry training in scaffolding Busnes@LlandrilloMenai also has partnerships with ARC Academy Holdings Ltd, Delyn Safety, Leica Geosystems Ltd and others to deliver a comprehensive range of accredited courses that includes on-site safety, heavy plant training, site management and more."
The completion of the new scaffolding centre follows the recent signing and publication of the North Wales Growth Deal. The deal includes plans for 14 transformational projects in the region that would create over 5,000 jobs, including the Glynllifon Rural Economy Hub, the Holyhead Gateway, developments at Trawsfynydd and Regional Land and Property Developments including Denbigh Hospital Site, Parc Bryn Cegin at Bangor and Bodelwyddan Strategic Site.
CITB and Busnes@LlandrilloMenai work closely together at the CIST Centre and to help meet skill shortages in the industry. CITB is currently funding many students completing scaffolding training at CIST to help meet those industry needs.
Steve Radley, Director of Strategy and Policy at CITB, said: "This investment will see a boost in construction in North Wales, and CITB will be supporting those who want to move into the industry so that it can meet the ambitious projects and the challenges ahead. With the amount of construction and development work in the pipeline, this centre will help to meet the increasing demand for skilled scaffolders.
"We're confident that training centres like this one, coupled with our plans for further investment in Wales, will contribute to a thriving construction sector in the country."
This new scaffolding training centre will allow the CIST Centre along with partners Simian Risk Management Ltd and CITB to support the development of local skills that will support the realisation of these large infrastructure projects.
The plans called for in the growth deal would see new opportunities for scaffolding companies within North Wales, and more skilled workers needed to meet that demand.
The first batch of future scaffolders to study at CIST start on Monday 1 March, with a group of nine setting off on the first step of their new career.