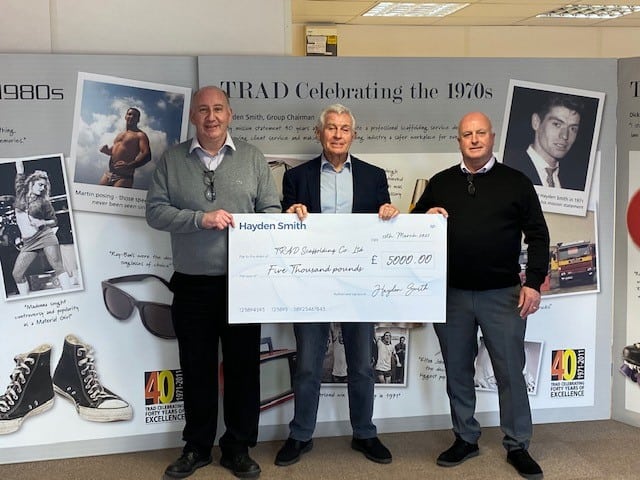 Hayden Smith supports TRAD's fundraising challenge as the company celebrates its 50th year in business.
TRAD Group ('TRAD'), one of the UK's leading scaffolding and access companies, has announced that its founder and former chairman, Hayden Smith has donated £5,000 to its 2021 fundraising campaign.
The generous donation was welcomed by TRAD Group's CEO, Des Moore, who worked with Hayden for over 25 years before the business was successfully acquired by the ALTRAD Group in 2013.
"Hayden was not just an exceptional businessman, he was also a visionary who founded TRAD and grew it to be a leader in the UK scaffolding and access industry," commented Des Moore. "He is still connected with many of us in the business and has been extremely supportive of our workforce and this charity endeavour in particular."
TRAD is celebrating its 50th birthday in 2021 and, as part of its celebrations, has committed to raising £75,000 during the year to be split between three national charities chosen by TRAD staff: The Royal British Legion, MIND and the MS Society. During March, TRAD teams have been taking on personal challenges, cycling running and walking over 50km's each to raise money for the campaign.
"I'm really pleased to be supporting TRAD's charity initiative to celebrate its 50th year," said Hayden Smith, who came to the TRAD offices to hand over a cheque to long-standing staff members Dickie Hackett and Paddy Ryan, who have approximately 80 years TRAD Service between them.
"TRAD has always been a family business at its heart and I'm delighted to say that the family ethos remains at the heart of the business despite the amalgamation with ALTRAD in 2013, and it is great to see so many people committed to raising money for these outstanding good causes."