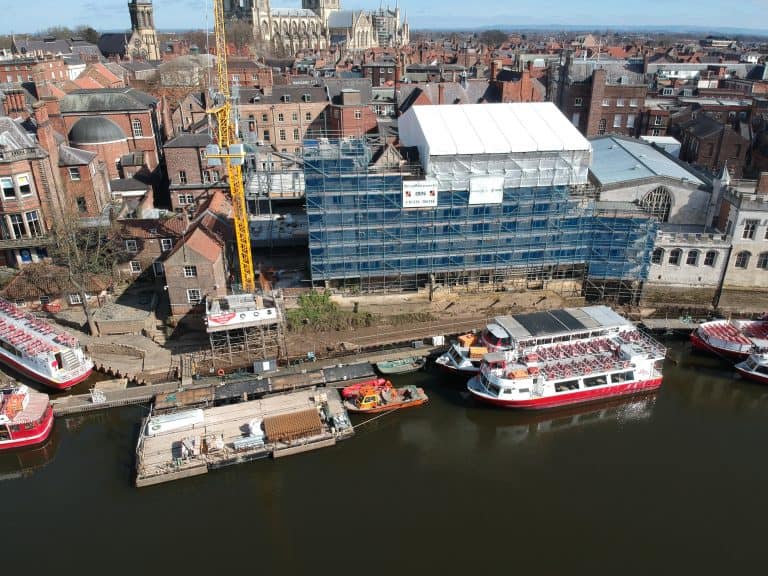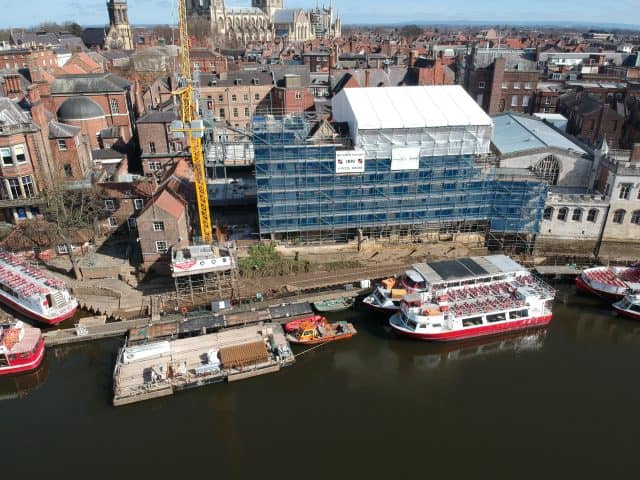 IBN Scaffold Access Ltd and UK System Scaffold Hire have worked together to install a temporary roof over the main hall on York's Guildhall – one of the City's most historic buildings.
The Haki roof was literally shipped to the site on floating pontoons which were loaded at the Queen Staith and towed along the River Ouse to be unloaded at the Guildhall by main contractor VINCI's site tower crane.
The unusual access route resulted from a collaboration between the Canal and River Trust and VINCI to use the River to make site deliveries, helping to limit the disruption to residents and tourists.
The Guildhall, a collection of Grade I, II* and II listed buildings – built around the 15th-century hall and riverside meeting room – is currently undergoing a £20 million renovation that will bring the Guildhall's historic business role into the 21st century, creating quality office space with the potential to create an estimated 250 jobs in high value sectors.  The temporary roof will provide protection while the Guildhall roof is being fully refurbished.
Brent Davis, Operations Director at IBN Scaffold Access Ltd, said that the Haki temporary roof was the obvious choice for the project: "We know from experience that the HAKITEC 750 Roof System ticks all the boxes – it is lightweight, safe, fast and easy to erect, providing maximum protection against the elements with a very effective weatherproof seal."
"An equally important consideration, given the fact that we had to "float" materials to site, was the fact that the Haki roof system has many fewer components compared to other systems.
The precise nature of the access details was also one of the many reasons that we chose to work with UKSSH – we knew that they would respect delivery schedules, delivering quality components precisely as and when we needed them."