It's three steps to scaffolding success for school leavers looking to construct a career in scaffolding thanks to a leading companies well-designed training programme.
Skill Scaffolding are certainly leading the way in training right from the basics to working on-site and completing formal courses. In terms of their skill academy, there are three levels for trainees to master before they become fully-fledged operatives in the field.
The first level begins in the yard and accounts for the very basics including the wearing of PPE, components used in scaffolding and a thorough grounding in health and safety; culminating in preparation for the HS&E Touchscreen Test, and COTS course.
Upon successful completion, students will begin training on-site under the supervision of fully trained scaffolders ready to become mentors. This part of the training will get them used to the weight of materials and the practical side of life on any scaffolding project.
On reaching the third level trainees will be booked onto their first CISRS scaffolding course in preparation to work their way through the system – at the end of all this, they'll become fully trained scaffolders.
Lee Marshall, Head of Health and Safety at Skill Scaffolding, explained: "Over the last few years, we have seen a drop in the number of the younger generation coming into the trade, so last year we decided to start our Skill Academy.
"The trade is facing a huge skills gap so putting the support in place to help the future generations learn the correct way of doing things is the best way to ensure our clients keep getting the top-quality service they deserve.
"Finding a career in scaffolding is not something that usually comes naturally to the younger generations, they are actively encouraged to follow many different career paths at school and college, but scaffolding is rarely one of them. We can clearly see that it is vital that this changes, and we want to be involved in making that happen."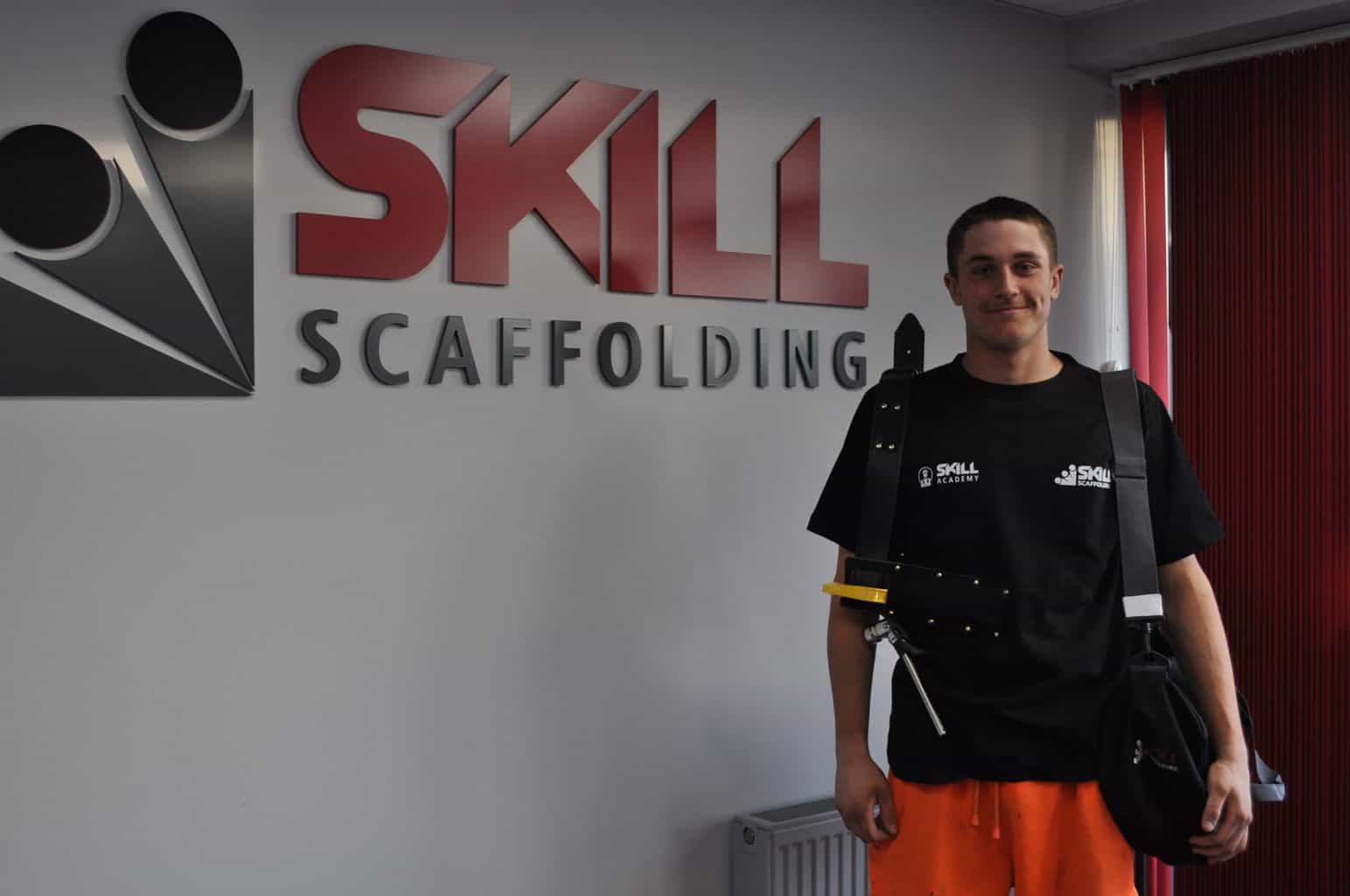 Alongside direct recruitment, Skill Scaffolding are utilising the government kickstart scheme as an additional source to funnel recruits into the skill academy.
The innovative scheme aims to create a number of new six-month job placements for young people currently on Universal Credit and at risk of long-term unemployment. The job placements are aimed at supporting the participants to develop the skills and experience they need to find permanent work after completing the scheme.
Skill Scaffolding has taken on numerous kick starters in the past few months, with many successful enough to progress to stage two of the academy.
Recruitment Drive
What's more, the firm is looking for experienced people to become part of up to five full scaffolding gangs. These include experienced labourers, Part ones and Part twos; alongside advanced scaffolders. And in addition, up to five Rhino Deckers – all to service projects within the areas of Dorset, Basingstoke and Chichester.
Skill offer competitive rates of pay, plus a van, with immediate long term and permanent work to the right candidates. Management opportunities to exemplary employees.
Appropriate training will be provided where required, as well as full PPE.
Interested applicants can contact our office on 02380 777 750, and ask for either Karl Mcleod or James Wall.
Emails can also me sent to either: [email protected] or [email protected]