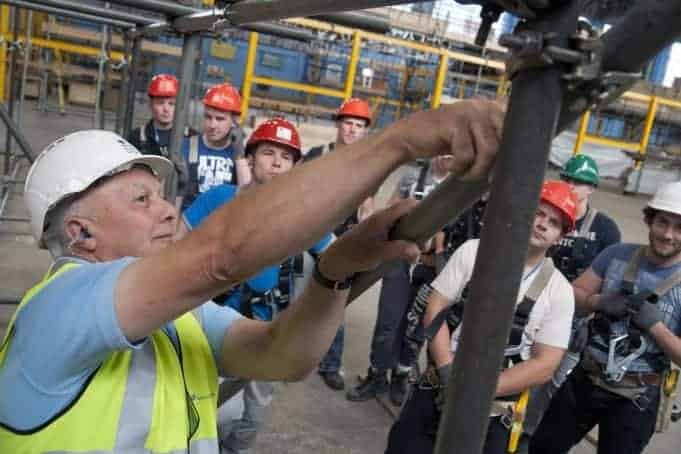 CITB has announced that scaffolding training will continue at its facility in Erith, Kent while also increasing capacity at Bircham Newton in Norfolk.
Speaking to Scaffmag the Construction Industry Training Board (CITB) said in addition to creating increased capacity at the Bircham Newton, Norfolk-based, training site, retention of the training centre at Erith has now been confirmed, in order to ensure that high-quality provision remains available for the sector.   
This is to ensure employers' access to specialist training provision in the region, particularly in the priority skills area of scaffolding.   
National Construction College (NCC) South, run by expert instructors, continues to provide high-quality training alongside CITB's other colleges at Bircham Newton, Norfolk, and Inchinnan, near Glasgow. 
The training board says supporting employers' core skills and training needs and tackling long-term people and skills challenges underpin CITB's 2021/22 Business Plan, published in March. And the CITB remains focused on supporting learners at the three NCC centres to continue delivering excellent training for construction employers.  
Its new commitment comes after the CITB shelved plans earlier this year to sell off the NCC's at Bircham Newton, Norfolk and Inchinnan after failing to find buyers.
The CITB's training update has been welcomed by industry body the Construction Industry Scaffolders Record Scheme (CISRS). 
David Mosley, CISRS Managing Director, said: "It's great news that the scaffolding training facility at Erith is to be retained by CITB, whose expert instructors have provided training for London and South East employers for so long. 
"The construction industry urgently needs new workers to ensure contracts are fulfilled and the industry can be more productive, so the retention of Erith provides much-needed continuity, reassurance and confirmation that CITB remains committed to training the next generation of scaffolders." 
Jackie Ducker, CITB Customer and Product Director, said: "Scaffolding has been identified as a priority skills need and training is in high demand.  
"Employers in the South East and London can have the confidence that they can access the training they need through CITB, which will continue to support a dedicated high-quality training facility run by experts, for professionals, to benefit the region, industry, and wider economy."