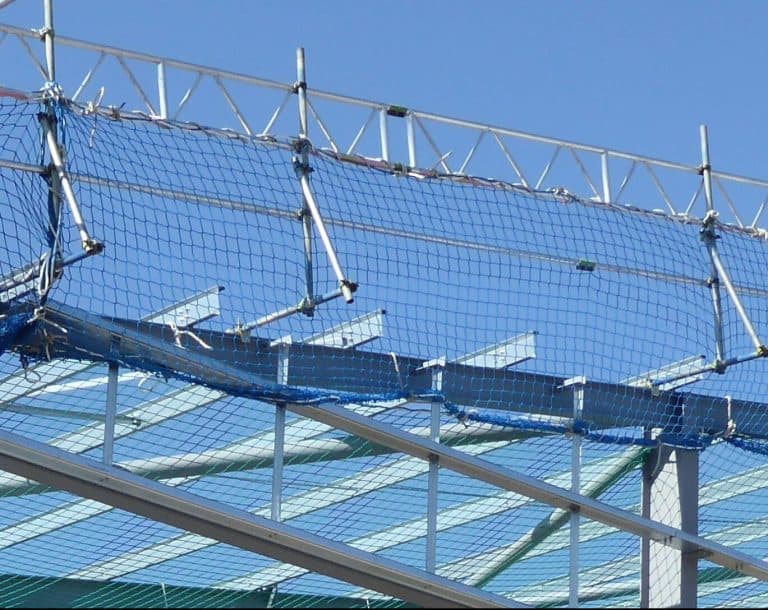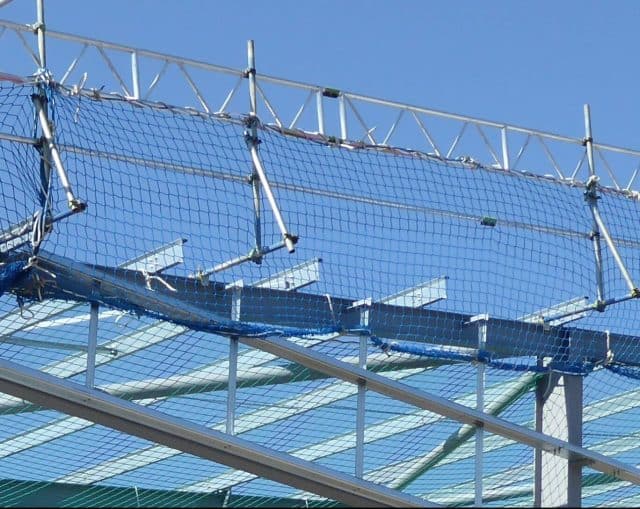 A new Oxfordshire based firm has been established to provide independent dynamic testing for Roof Edge Protection systems.
Edge Protection is a common sight on most UK construction sites. It prevents those working on roofs from falling. But testing of edge protection is often overlooked on many sites across the country.
Harrigen Ltd that's been set up by Rob Harris and Phil Gennard aims to facilitate this vital testing.
Edge protection is a collective solution identified within the Work at Height Regulations as being the preferred measure over personal protection.
BS EN 13374:2013+A1:2018 "Temporary edge protection systems – Product Specification – Test methods" is the standard to which Edge Protection should be installed. It exists to ensure that those working at height are afforded the highest levels of fall protection.
Harrigen Ltd Founding Director Rob Harris explained that at the centre of the guidance is the different classes of roof, based upon the pitch of the work surface. The Standard requires that classes B & C need to withstand dynamic loads because on steeper surfaces, a worker may slide or roll towards the edge protection and create high loads upon himself and the system.
It is important that the edge protection system restrains the worker whilst absorbing energy to minimise injury. Confirmation that the system will absorb the required energy at the point of impact cannot be proven by calculation, and must be proven by dynamic testing.
"This is regularly overlooked by those placing orders for edge protection and those installing edge protection, says Rob.
"The absence of this testing is potentially life-threatening to those working at height because there is no evidence the system will restrain the falling person upon impact."
Rob and Phil's company has been established to facilitate this testing. It is independent of product suppliers and installers. Rob said: "The guidance within the Standard is clear. To ensure a worker doesn't fall through the edge protection because it's not strong enough, it has to be tested". 
The test involves swinging a 50kg bag at specified locations along a built edge protection system, and measuring the relative deflection to establish sufficient energy absorption. This is best carried out away from site, in a controlled environment, to ensure safety and accuracy.
"So often we see double or triple rail systems installed by default. Roofing companies must first identify the class of roof (A, B or C) and if it is between a 10º and 30º pitch they must ensure that there are no gaps that a 250mm sphere can pass through and, crucially, see evidence from their installer that the Edge Protection design has successfully passed the swing bag test. If this is not available, the installation doesn't comply," Rob said.
Harris believes the reason the testing is not requested is because roofing companies and PC's may not be aware of the requirement and don't ask for it. Edge protection installers are likely to be aware of the requirement, but struggle to find anywhere that is both capable and independent to carry it out.
Rob added: "Principle Contractors clearly have a role to play by seeking confirmation the testing has been completed when considering edge protection as part of their Temporary Works planning. PC's need to be questioning all participants within their supply chain to ensure it has been completed".
Harrigen provides an independent swing bag testing service that is easy to organise and plan. It was established by Rob Harris and Phil Gennard, both highly experienced individuals within the edge protection industry. The pair have a combined knowledge totalling some 50 years.
Phil Gennard says:" To make it easy for clients, they send us a drawing of their Edge Protection design and we build it on our test rig. We then set up measurement devices and cameras and swing the bag as prescribed in BS EN 13374. We record the results of the test and issue a written report and video. The report and video is made available to the clients who in turn use it as evidence to confirm the testing has been successfully completed."
FASET member Jobsafe recently carried out this testing with Harrigen. Jobsafe Director Jon Obank commented:- "As a member of FASET, Jobsafe recognised the need to test our class B Edge Protection Systems. The dynamic testing was carried out by Harrigen and we found them to be really easy to deal with and very professional in the way they produced the evidence that our system passed the test. The report and videos mean we can easily prove our Edge Protection system meets the requirements of BS EN 13374." 
For more information visit: www.harrigen.com