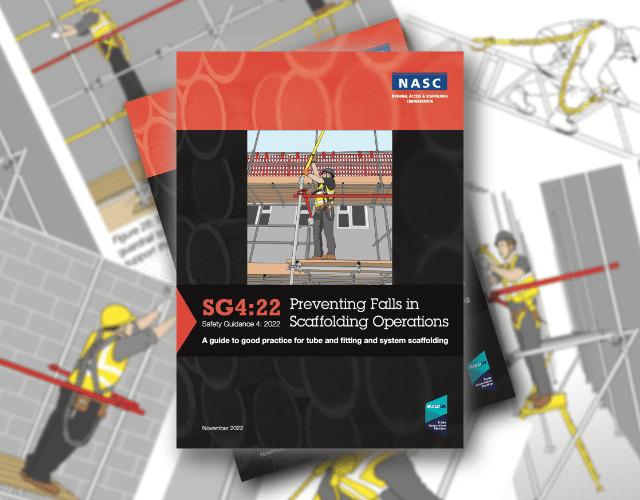 The NASC has launched SG4:22: Preventing Falls in Scaffolding Operations. This long-awaited, core NASC safety guidance document provides industry best practice for fall prevention when erecting tube & fitting and now also includes system scaffolding.
SG4:22 features 60 pages of detailed scaffolding sector analysis and safety guidance, with 95 key figures and illustrations, to bring it to life.
Initially the document is available to download as a PDF from the NASC ePortal, but handy A6 SG4 user guide booklets are in the pipeline. For now, the NASC states that current SG4:15YOU booklets can still be issued to scaffolders – alongside a briefing on the main changes to SG4 – until SG4:22 booklets become available in early 2023.
The key changes to SG4:22 are:
The removal of obsolete technology.
The inclusion of case studies highlighting accident and enforcement learning.
The embracing of new technology (e.g., drones and 3D modelling).
Updates to reflect changes brought in with TG20:21 (such a TG20 loading bays).
The inclusion of modular system scaffolding as well as traditional tube and fitting.
Additional safety guidance on working on beams.
Hazards, risks and control measures required when working on fragile roofs.
Improved Safe System of Work (SSOW) for temporary roofs and the prevention of falls.
Speaking about the launch of SG4:22, Acting NASC Managing Director, Dave Mosley said: "SG4 has long been one of the most important documents in the access industry, as such it is imperative that it receives a thorough review every 5 years. Since its introduction it has went a very long way in helping make our industry a safer place – for NASC members and non-members alike. It is a must-have document for anyone involved in working at height, scaffolding and access."   
SG4:22 Technical Author and Simian Managing Director, Simon Hughes added: "Having been involved with NASC for over 25 years, I am proud to be associated with NASC and particularly in the development of their flagship safety guidance.
"Since the first edition of SG4, which was published well over two decades ago, the scaffolding industry and the standards that support it have seen significant development, as they seek to reflect technological advancements, modern working practices, and the lessons learned by industry.
"NASC's publications are widely respected as industry best practice the world over, and I am pleased to have had the opportunity to be involved in the review and production of this edition, which will hopefully to yield improved standards of safety."
Suzannah Nichol MBE, Chief Executive Build UK provided the following foreword to the newly released  SG4:22, which says: "The application of consistently high standards is key to both safety and productivity on construction projects. Scaffolding professionals provide temporary working platforms and other structures that are used throughout the construction sector and they often face significant risks in establishing safe temporary access and work environments for other workers. Specialist construction trades, such as scaffolders, perform a vital role in our supply-chain and we all rely upon current industry guidance to establish, and maintain, safe working practices that have become the benchmark for our members' projects.
"Written by NASC and industry experts, over the years this guidance has challenged industry practices and has clearly demonstrated an impact in saving lives and preventing serious injury. All scaffolding operatives should hold a current CISRS card and be trained to SG4:22 Preventing Falls in Scaffolding Operations which sets the standard across the UK."
SG4:22 Management Guide is available to download as a PDF from the NASC e-Portal now. Contact the NASC office for more details: Phone (+44) 20 7822 7400 or email [email protected].