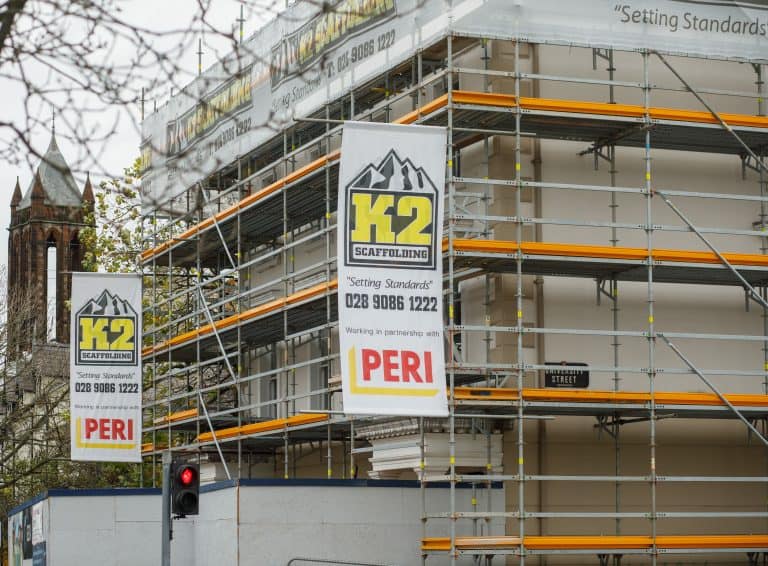 Northern Ireland-based scaffolding company K2 Scaffolding has announced its partnership with supplier PERI, investing over £400k in PERI's scaffolding range. 
The partnership marks the first time PERI and K2 Scaffolding have worked together.
According to K2 Scaffolding, the addition of the PERI UP scaffolding system to its product portfolio will aid in its growth plans and allow the company to take on larger construction projects. 
The family-run business has already put its investment to use, with its first PERI UP project underway at the Seamus Heaney Centre at Queen's University Belfast.
PERI expressed excitement about its long-term partnership with K2 Scaffolding, with a commitment to supporting the scaffolding contractor's expansion into new sectors with its products. 
Charles Stratford, Business Development Manager at PERI UP, commented on the partnership, saying, "Continuity is vital for any contractor in this industry. By working directly with PERI as their manufacturer, engineer and rental partner of scaffolding solutions, K2 Scaffolding can benefit from a shorter supply chain and more flexibility around their project requirements. 
With the support of our logistics network across the UK, we can directly support K2 Scaffolding with its plans to scale up and diversify its project portfolio in any sector and region. Additionally, a versatile product like the PERI UP system makes those transitions between sectors more seamless. K2 Scaffolding is already a well-established brand in Northern Ireland and we are looking forward to helping the team develop the business around other parts of the UK."
Tara Johnston, Financial Controller at K2 Scaffolding, said, "We believe the system's simplicity, speed, and flexibility will enable us to take on more ambitious projects and support our growth plans." 
The partnership between K2 Scaffolding and PERI is expected to bring significant growth opportunities for the scaffolding company.