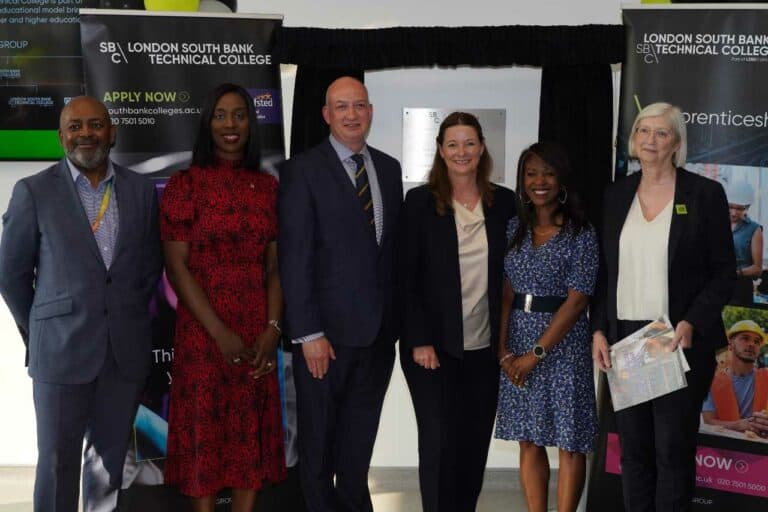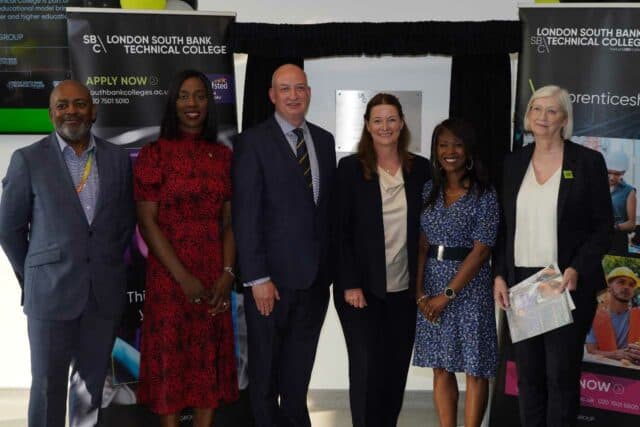 London's newest Tech College has teamed up with Lee Marley to shape future Construction professionals.
London South Bank Technical College (LSBTC), a fresh and advanced facility for technical skills learning, was inaugurated yesterday by Gillian Keegan MP, Secretary of State for Education.
The college, a £100 million investment located in Nine Elms, was established to offer sophisticated technical skills training to more than 2,000 students across disciplines such as construction, healthcare, and robotics.
At the grand opening, an exciting partnership was announced between LSBTC and Lee Marley, a front-line UK company specialising in brickwork, stone, and scaffolding. 
This partnership is geared towards fostering a new generation of skilled workers in the construction sector through comprehensive apprenticeship programs.
In September 2023, a cohort of 12 LSBTC students will commence their apprenticeships with Lee Marley, followed by another batch of 12 in November 2023. The ambition is to have 150 apprentices on this programme by 2027. 
Furthermore, the college aims to provide over 1,000 apprenticeship placements by 2026, with LSBTC's links to significant employers and London South Bank University (LSBU) instrumental in bridging the skills gaps in the technology, engineering, construction, and maths sectors.
Lee Marley's portfolio boasts major projects, including Crossrail and the London 2012 Athletes Village, reinforcing the potential career prospects and practical experiences for apprentices in the programme.
The Construction Skills Network report anticipates demand for an additional 225,000 construction workers in the UK by 2027, with London alone requiring 26,000 more construction workers by 2026. This partnership is primed to address these impending shortages.
"This phenomenal new technical college will offer people in South London fantastic training opportunities whilst giving businesses the skills they need to grow," stated Gillian Keegan. 
She praised the initiative's potential for supplying major capital projects with the necessary skills in various sectors.
Fiona Morey, South Bank Colleges' Executive Principal, highlighted that the partnership with Lee Marley would equip the apprentices with the high-tech skills required for successful careers in the construction industry, supporting London in meeting the demand for competent workers.
Lee Marley's Chief Operating Officer, Dan Clarkson, expressed his delight at the new apprenticeship scheme. "Our apprentices will have access to fantastic facilities at the college and a tailored curriculum taught by highly experienced in-house trainers which is then complemented by on-the-job work experience on Lee Marley's major construction projects across London," said Clarkson, emphasising the exceptional public-private partnership in addressing the construction skills crisis.
Armed with its state-of-the-art facilities and progressive collaborations, London South Bank Technical College is poised to make significant strides in advancing technical education and help resolve the looming skills shortages in the UK.