On Tuesday 11 April 2006, just after noon, an independent tied perimeter scaffold collapsed at McAleer & Rushe construction site in Milton Keynes.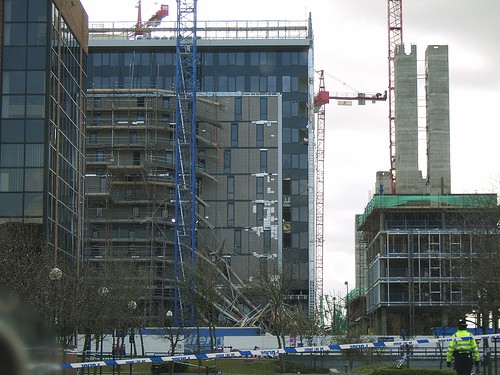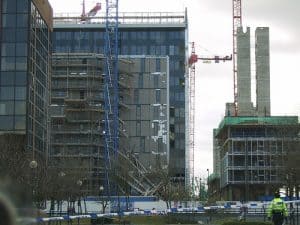 The collapse started on the West Elevation (facing Witan Gate), with a partial collapse of the North Elevation (facing Midsummer Boulevard). The scaffold collapse was contained within the Jury's Inn site boundary. Three workers who were on the scaffold sustained multiple injuries. Sadly, one worker, John Robinson, died 3 days later in hospital.
In 2006 the Health and Safety Executive (HSE) issued a safety alert to the construction industry following this incident. The warning aims to alert those working on similar projects to the importance of their arrangements to provide and maintain stable scaffolds. HSE recommends that those arrangements are reviewed regularly.
Two construction firms involved in the major scaffolding collapse at Milton were ordered to pay £126,000 for their role in the incident which left one man dead and two others seriously injured.
John Robinson, and his son Mark, were working on the Jury's Inn site in Witan Gate, Milton Keynes  alongside Ivan Penkov. All three men were on the 40-metre-high scaffolding when it collapsed.
They fell to the ground and were trapped under rubble until rescue workers could reach them.
Father of three, John Robinson, 49, was taken to hospital suffering from serious injuries to his left leg. Three days later he died from a pulmonary embolism, as a result of the damage to his leg.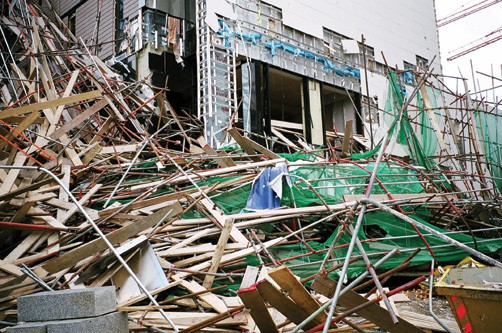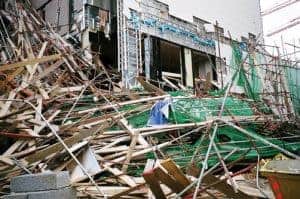 John's son Mark Robinson suffered a punctured lung, broken vertebra and ribs and significant cuts and bruising in the fall. He was unable to work for a period after the incident.
Ivan Penkov suffered serious fractures to his legs and arms and spent a month in hospital recovering. He has undergone a number of operations and has had to re-train as a draftsman.
In Huntingdon Crown Court today, the principal contractor on the Jury's Inn site, McAleer & Rushe Limited of Cookstown, N.Ireland was fined £90,000 and ordered to pay costs of £42,000. The cladder on the site, Lee Smith Carpentry Limited of Romsey, Hampshire was fined £36,000 and ordered to pay costs of £28,000.
The court heard that a combination of failures led to the scaffolding collapse. The scaffolding was not strong or stable enough for the work being carried out. Inspection of the scaffold was also inadequate, despite specific instructions from HSE and McAleer's health and safety manager.
HSE Principal Inspector Stephen Hartley said:
"John Robinson lost his life in this incident and two others have had their lives changed forever as a result. It's a wonder that more people weren't hurt.
"It is totally unacceptable for companies to disregard the safety of their workers. If the scaffolding had been designed, erected and managed properly, this incident would never have happened."
McAleer & Rushe Limited had earlier pleaded guilty to breaching section 2(1) and 3(1) of the Health and Safety At Work etc Act 1974. Lee Smith Carpentry Limited had admitted four breaches of health and safety regulations.
John Robinson's widow, Christine Robinson, said: "John was a kind, caring man who lived for his family. My children and I have not come to terms with his death; we don't understand why it had to happen.
"This incident should never have happened if both companies had ensured the safety of those working for them. Every day I miss John so much – my best friend, my soul mate and my future."