Protesters which included scaffolders blockaded the BP Saltend site this morning as part of wildcat action in a row over redundancies.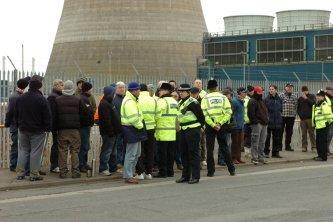 About 400 workers started a picket which blocked the entrance to the biofuel plant, causing traffic chaos for commuters.
Traffic returned to normal after the workers ended the blockade at around 9.30am.
The dispute involves mechanical contractors for Redhall Engineering, a firm based in Middlesbrough, who are working at the Saltend site.
They have accused Redhall Engineering of not sticking to a national agreement on redundancies.
Strikers say the company should be offering redundancy specific to individual contracts, not to its employees nationally.
Keith Gibson, a GMB member who works on the site, told the Mail: "All we want is for Redhalls to honour the national agreement.
"It is an unofficial strike, we have not taken a ballot, but we want action and we want it now."
The strikers were made up of scaffolders, electricians, welders and other mechanical engineers.
Mr Gibson said shop stewards were in conversation with Redhall officials about the matter.
A spokesman for BP said: "We wish to confirm that the disruption caused in the Saltend area this morning has involved contractors working for Redhall Engineering Services Ltd who are working on the Vivergo Fuels Limited project."
Via: www.thisishullandeastriding.co.uk