It promised to be a highlight of this year's Health & Safety Expo, and so it proved – six of the UK's leading health and safety organisations coming together for the first time ever to discuss and debate how to eradicate falls from height in the workplace.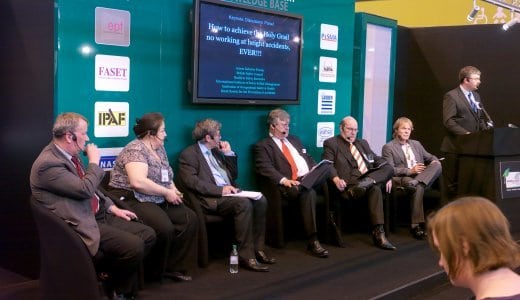 Their conclusion? The need for more cooperation, better coordination, further education and improved long term planning.
Chaired by David Thomas, safety, health and environment director at William Hare Ltd, the panel consisted of:
Peter Bennett, chairman of the Access Industry Forum (AIF)
Joy Jones from the Health and Safety Executive (HSE)
Nigel Bryson OBE from the British Safety Council (BSC)
Barry Holt from the International Institute of Risk and Safety Management (IIRSM)
John Holden from the Institution of Occupational Safety and Health (IOSH)
Roger Bibbings MBE from the Royal Society for the Prevention of Accidents (RoSPA).
Key themes to emerge included better leadership; the need to engage the workforce more directly in safety issues; the avoidance of a 'tick box' approach to training; improved targeting, especially of small to medium sized firms in the construction sector, but, above all, the necessity to pool and synchronise resources, knowledge and information.
Roger Bibbings urged all the organisations taking part in the discussion to work together to help fill the void created by the cuts in the HSE's budget.
Two other AIF-sponsored discussions also attracted capacity audiences and sparked lively question and answer sessions: 'Successful planning techniques for working at height' and 'Maintaining effective work at height policies in a tough economic climate'.
Comments Peter Bennett for the Forum:
"The Holy Grail panel discussion was a ground breaking event which, I am sure, will have positive, long term consequences for the work at height sector in general. The spirit evident in Birmingham augers well for a high degree of cooperation between all the organisations taking part, with a view to reducing the number of deaths and injuries resulting from falls from height."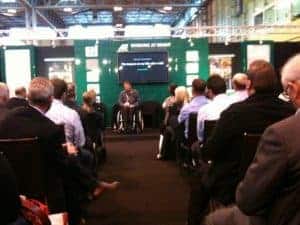 Also making a huge and memorable contribution to the 2011 Knowledge Base programme was motivational speaker, Jason Anker.
Jason was paralysed from the waist down as the result of an avoidable accident while working at height.
Each day he delivered a raw, powerful presentation designed to warn everyone of the life shattering consequences of a fall.
The panel discussions and individual presentations by AIF member organisations IPAF, NASC, PASMA and the Ladder Association, and Jason Anker,
will shortly be available to watch again via online video on the Forum's website www.accessindustryforum.org.uk
Via: (AIF Press Release)