A picket line has been set up outside the old Cassel Works, Billingham, Teesside after 14 scaffolders lost there jobs at the end of last week.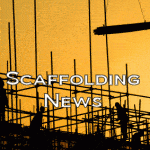 The sackings came after one of the scaffolders Tony Seaman who is an activist for UNITE union took a letter of grievance to management on Wednesday asking to talk about increasing pay.
The scaffolders claimed he was then asked to leave the site along with 13 other scaffolders.
The industrial action was immediately set up outside the site which swelled to over 100, involving other trades such as fitters and electricians that walked out in sympathy for the scaffolders, calling for the men to be reinstated.
Officials from UNITE and GMB unions held talks with the company to get the men back to work. However, no deal could be met.
Scaffolder, Tony Seaman said: "I think it is wrong and we are very angry about this. "All we wanted was a review into our pay. We are on £10.46 an hour and under the blue book agreement we wanted £14. What is wrong with that?"
It's understood that union officials and the company agreed on Friday to take the matter to the conciliation service ACAS, but a condition was that the picket line should be removed.
However workers refused to call off the action until they were given their jobs back and on Friday the matter was deadlocked.
UNITE official Bill Green said: "The unions have told the men that they are on their own because the walk-out is illegal. The company claimed they never received a grievance letter. This is an unfortunate and regrettable matter that needs to be sorted out."
Communications Director David Massey at Hertel UK said: "Due to changes in the scope of the work we are carrying out at Lucite, the company was in a position where it needed to end a number of temporary contracts."
"This has involved 14 men, all of whom were employed as temporary scaffolders and labourers. The process was managed in accordance with standard procedures with appropriate notice issued to each of the affected employees."
Talks are expected to continue soon.
Let us know what you think about this story in the comments box bellow