Peri will showcase their state of the art products at the MEC 2011 during November 21 – 24 at the Dubai International Exhibition Centre in the Saeed Halls.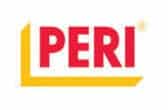 Professionals will be treated to a wealth of information at the Peri stall including intensive discussions with Peri team of experts, tours of the exhibited products, latest documentation and live product demonstrations which will highlight the advantages of the Peri products.
On an area of around 72 m² Peri will be presenting proven system equipment, solid product enhancements and numerous new developments. As one of the leading formwork and scaffolding suppliers in the Middle East with offices throughout the entire MENA region, Peri will not only exhibit already well­known and established products, but also launch a new product targeted at the high demand within oil and petrochemical projects.
Presentation of proven and innovative systems
Among the products showcased at the Peri stand are proven formwork systems as well as the flexible Peri UP Rosett Flex modular scaffolding system.
With interactive live demonstration and product experts from Germany, Peri will demonstrate how easy it is to erect Peri SKYDECK, the light-weight aluminium panel slab formwork for faster assembly. Equipped with a drophead, early striking is possible after only one day (depending on the slab thickness and concrete strength). On-site material requirements can be reduced as the beams and panels are then available for the next concreting cycle.
SKYDECK is made of aluminium; no component weighs more than 15 kg. Thanks to the low weight of the individual components, SKYDECK enables easy and tireless erection and striking. The SKYDECK main beam reduces the number of props needed – only 0.29 props per square metre of slab are required. This saves time and offers more workspace which simplifies the transportation of formwork materials across the site.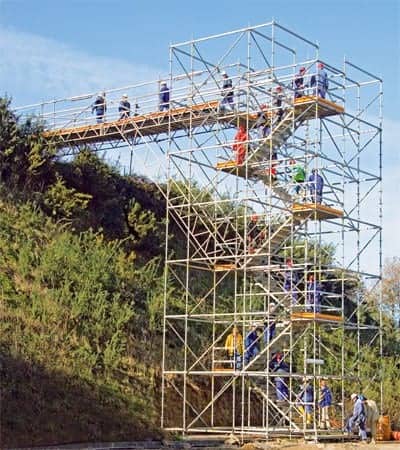 For the first time in the Middle East, Peri will introduce the type-tested Peri Up Rosett Flex modular scaffolding system at MEC 2011. Utilized for industrial, petrochemical as well as oil and gas projects, the system fulfils the requirements for these particularly challenging projects.
Peri UP Rosett Flex offers maximum flexibility in scaffolding construction. Peri UP Rosett Flex has integrated safety features, which allows the same components to be used as shoring, stair towers, suspended scaffold, reinforcement scaffold or working platforms. This results in reduction of on-site material requirements and increased material utilization rates.
The industrial decks are self-securing and can be mounted at any position within the scaffold on standard ledgers. The main components of Peri Up Rosett Flex, such as standards, ledgers and decks, have a uniform length and width grid arrangement of 25 cm or 50 cm. Therefore the system can be adapted to suit almost any geometrical form. Peri Up Rosett Flex can be erected quickly and efficiently, it is extremely versatile and fulfils the highest levels of safety requirements. With Peri Up only a few components are required to economically carry out an extremely diverse range of on-site scaffolding operations. The multi-functional system saves assembly time, thus, construction progress will be accelerated and building costs will clearly be reduced.
Sustainable solutions for the industry
Peri has been represented for many years in the Middle East region, and has provided cost­effective and efficient formwork and scaffolding solutions for numerous major projects. These include, for example, the Emirates Towers in Dubai and the Saadiyath Bridge in Abu Dhabi.
However, Peri provides far more than just intelligently­ designed system equipment. The company's wide range of activities also includes various technical, commercial and logistical services which support customers in ensuring cost­effective and safe realisation of their projects.
In all its activities, Peri also makes a valuable contribution to more sustainability. Many aspects of the company's business operations demonstrate economic and environmental thinking and action.
For example, product development aims to achieve the best­ possible material utilization and thus reducing the amount of materials actually required – the system equipment stands out through high utilisation rates and a long service life. Procurement at Peri is also carried out in accordance with ecological sustainability; for instance, timber is used from certified growing regions as far as possible.
And not least because the economically optimised formwork and scaffolding solutions minimise material utilisation on the construction site and contribute to waste avoidance. Completely in keeping with the main focus on sustainability at this year's fair, Peri will be providing detailed information on this important topic at its stand.
Via: Press Release