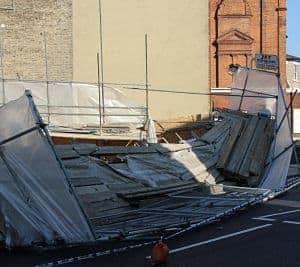 This is the scene after the scaffold collapsed at around 1pm on Monday in a busy stretch of road in Fulham.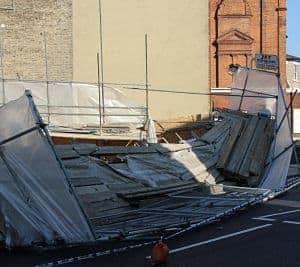 The scaffold fell onto the pavement that hundreds of schoolchildren use everyday. Miraculously, no cars or people were near at the time of the collapse.
A local shop keeper heard the collapse from behind his counter he said:
"It's amazing no one was passing – this is one of the busiest roads in the area and is used by hundreds of people a day. There is no doubt this could have killed someone." "It was a huge bang, you could really feel the power of it."
Another eyewitness saw the incident and said:
"I was standing outside smoking and out of the corner of my eye I saw something moving. It seemed to come down in slow motion, the polls were bending 90 degrees and then it crashed to floor.
"If someone had been underneath they would have died, unless they were a very small child. It's really lucky no one was walking down there at the time."
The scaffolding was on a three-storey block of flats that are being built on the footprint of a former council building.
The local shop keeper said that activity at the site had died down recently, but he was concerned about the scaffolding for some time as the structure had been swaying in the wind.
More Photos : Courtesy of  fulhamchronicl.co.uk
Written By Daniel Norton