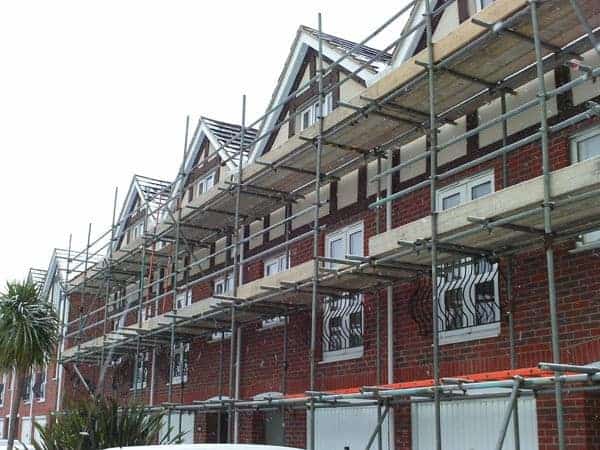 TAXPAYERS will be footing a bill for almost £1 million for putting up scaffolding for repairs to Stoke-on-Trent council houses and public buildings.

This will bring the total spent on scaffolding to more than £3,200,000 since staff at Keir Stoke were forced to stop using ladders for minor repair work on city council properties.
The ban was introduced by health and safety officials at the company after a worker was seriously injured after falling off a ladder.
Scaffolding is now used by workers for repairs such as putting up security lights.
By the end of March, Stoke-on-Trent City Council will be facing an expected bill for £957,000 for the use of the equipment, which costs £35-a-day to erect.
On average the structures remain in place for eight days.
The bill for 2010/11 is up by around £42,000 against the previous year despite efforts to reduce costs by using cheaper alternatives.
Use of the scaffolding has been criticised as an 'unnecessary expense' by residents and a cause for delays.
Chairman of East Bentilee Residents' Association, Alan Joinson, pictured below, said: "It's stupid because they are putting scaffolding up for little jobs.
"If there is an issue with a roof or something, I agree that scaffolding should be used but they're using it for things that can be fixed with a step ladder.
The 64-year-old, of Bentilee, added: "It's not just time consuming it's become an expense that we could all do without with all the cutbacks at the moment."
Meir resident Christopher Shenton, who is disabled, has been waiting almost three years for repairs to the roof of his Brookhouse Road home.
The 46-year-old said: "I have had damp problems for ages. The concrete supports in the eaves of the roof have been falling off and the tiles are coming loose.
"We have problems with our kitchen too but I have had to try and repair it myself because we can't live like this.
"I know it is procedure for Keir to use scaffolding but it means nothing ever gets done because we are all having to wait for so long. It infuriates me to think how long I have been waiting."
The scaffolding bill reached a record high of £1.4 million in 2009/10.
Council officials vowed to try and reduce the cost by persuading Kier to use cheaper platform towers.
A council spokesman said: "The city council and Kier have worked closely together over the past 18 months to reduce the costs of using scaffolding in our repairs.
"We are committed to maintaining the standard of service our customers can expect while also reducing costs where possible.
"While the city council and Kier cannot compromise on the safety of the workforce, alternative means of access have been investigated and are being used where appropriate."
Via: thisisstaffordshire.co.uk