The NASC has been asked to comment on the use of impact wrenches during the erection/dismantling of scaffold.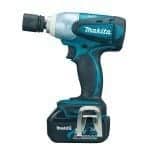 The NASC would advise members as follows:

The recommended force needed to tighten a fitting is 50 N/mtr as stated in EN 74. Some wrenches have a minimum setting that is greater than this recommended figure. Therefore there is a risk that a fitting could be over tightened causing damage to the fitting if the wrench is used to its extreme.
Members should note that the use of impact wrenches should be the same as other items of plant and this should entail a period of training, familiarisation and monitoring, to ensure that the wrench is being used in the correct manner at all times.
It should also be noted that during the latter stages of battery life the wrenches may in some cases give insufficient force to adequately tighten fittings.
The NASC recognises that these wrenches do offer certain benefits, including speed and reduction of potential RSI problems but would advise members and users of such equipment that there is a potential for concern over the use and operation and as such each member should adequately access the risk for their own particular situation and ensure that they put in place protocols to cover and ensure safe use.

Assessment
Training
Familiarisation
Monitoring
The NASC will keep this matter open and issue more information as it becomes available.
Via: nasc.org.uk
Let us know your thoughts in the comments below