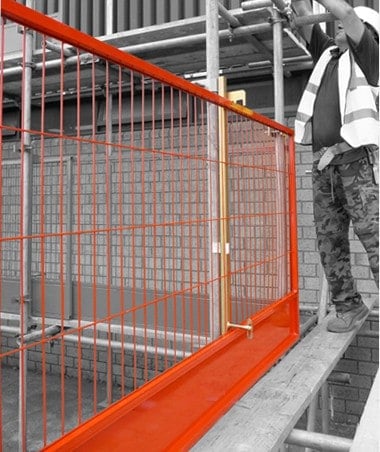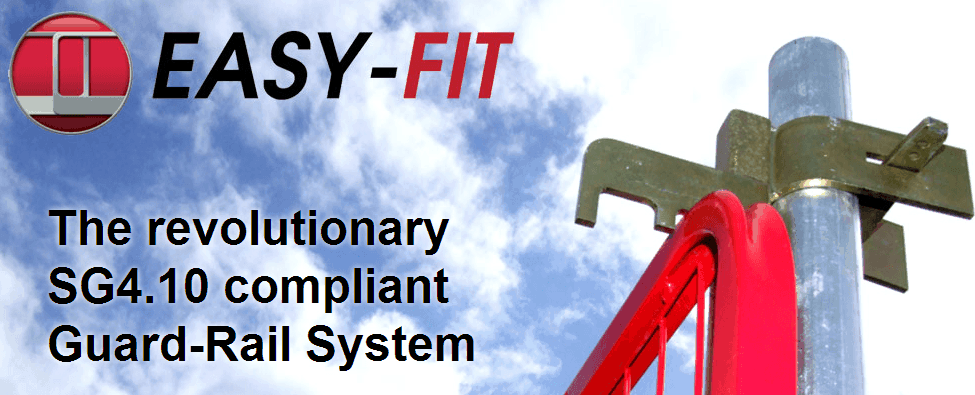 The Advanced-Guard's Easy-Fit system is a simple, two part guard-rail system, designed with strict safety and speed of installation in mind. It's unique 'overlap and slide' fittings give ultimate flexibility and do not require qualified scaffolders for installation.
Once in place, Easy-Fit system allows guardrails on subsequent lifts to be installed from the safety of a fully guarded safe zone, keeping installers safe at all times.
A unique patent applied for (PCT/GB2011/051896) stanchion post system is fixed to the scaffold standard from the lift below.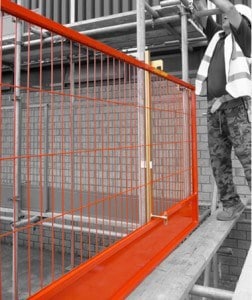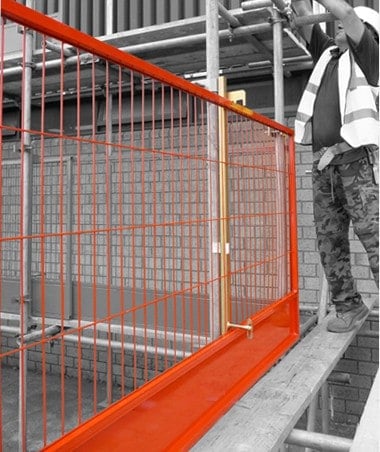 Easy-Fit guardrail panels slide up the stanchion posts, whilst locators fix the panel in place. At all times, scaffolding operatives are working from behind a safe barrier.
The Easy-Fit panels are left in-situ for the duration of the project, resulting in a finished scaffold, with fully guard-railed lifts and a completely gap free working platform. Scaffold inspectors can easily see that the scaffold has been installed in accordance with SG4.10 and will be confident that the scaffold can be dismantled safely.
The Easy-Fit panels incorporate a built in toeboard and brickguard which prevents tradesmen interfering with the units. When using conventional equipment, brickguards are regularly removed, rendering the scaffold platform unsafe and unfit for use.
The Easy-Fit system is the most flexible, total-security, scaffolding system available. Not only does it provide you with a single system solution to all your scaffolding needs, but saves you labour time and does not require qualified scaffolders to erect the safety zones on each lift.
Easy-Fit Posts
There are two simple to install support fittings. One Easy-Fit post is for use exlusively with tube & fitting scaffolding (A), the other, for either tube & fitting or system scaffold (B).
Easy-Fit Panels
There are three sizes of easy-Fit panel, designed to overlap and slide-to-fit, providing a fully braced safety-zone, from which further lifts can be erected in full safety. The 3 sizes and the unique ability to overlap panels, provides ultimate flexibility. However, should you require it, bespoke panels can also be provided.

Health & Safety 
The Easy-Fit system has also been rigorously tested and complies with all current legislation and best practise recommendations within the scaffolding and construction industry, including:
The Health and Safety at Work etc Act 1974
The Work at Height Regulations 2005
The Manual Handling Operations Regulations 1992
NASC; SG4;10
Edge barrier strength tests: EN13374:2004e Class A Edge Protection
Contact