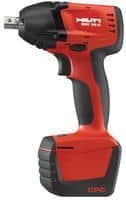 Impact Wrench..
We have all heard about the benefits of using the impact wrench for erecting and dismantling scaffolding and some suggested it was the future for our industry.
But rumors are now surfacing that one of the major manufactures of impact wrenches Hilti will no longer be supplying impact wrench fleet management packages to scaffolding contractors. These packages covered all tool service and repair costs for a fixed monthly charge.
Hilti has confirmed these rumors to one website stating:
"The reason was because that they weren't intended to be used in the way that scaffolding contractors use them and they were constantly changing and repairing them due to motor burn out due to over torquing."
Although Hilti have said the impact wrenches are on sale to all trades but the lifetime service, 2 years no cost and Fleet Management will not be offered for this product when used on scaffolding applications.
The Demise Of The Impact Wench For Scaffolding…?
The question is now will the other large impact wrench manufactures Makita and Panasonic follow suit in removing their service packages for scaffolding contractors ? And could this be the first step in the demise of using impact wrenches for any scaffolding operations ?
By Daniel Norton
Do you use a Hilti Impact wrench ?  How do you think this will affect you ? Let us know in the comments below.