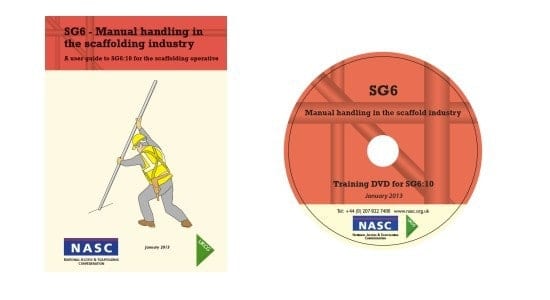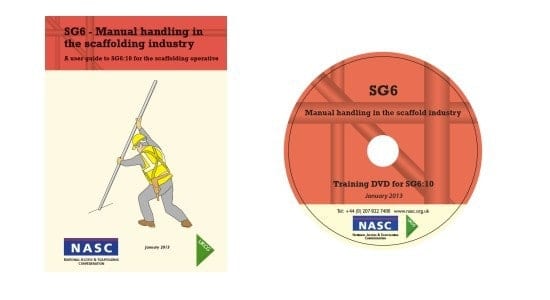 The National Access & Scaffolding Confederation (NASC) have today released a SG6 Manual Handling In The Scaffolding Industry training DVD and pocket User Guide.
This new guidance has been developed with the input from the Health & Safety Executive (HSE) and with an endorsement from the UK Contractors Group (UKCG).
SG6 is to back-up SG6:10 that was released the back end of 2010 as a management and training guide for induction and refresher training. This new guidance is aimed at reducing manual handling accidents within the scaffolding industry.
• SG6 Training DVD: To be used primarily as a training delivery tool, this 21 minute DVD covers all aspects of the SG6 and is backed-up with useful, downloadable questionnaires from the NASC Website (www.nasc.org.uk) for additional training tools. This retails at £50 + VAT (£25 + VAT for NASC members).
• SG6 User Guide: A handy A6 pocket guide, loaded with useful illustrations and in full colour print, with a laminated cover, featuring the new safety guidance in easy-to-digest detail, for use on site by scaffolding operatives. This costs £4 (or £2 for NASC members).
In a press release by NASC  Robin James, NASC Managing Director, said: "More than 25% of the injuries reported each year by NASC members are associated with manual handling. We have produced our new, interactive SG6 DVD and user-friendly pocket User Guide to give scaffolding contractors, NASC members, non-members, and main contractors alike the ability to ensure a decent basic level of competency in manual handling activities exists for all scaffolding operatives, whether employed directly or working on one of their sites. The DVD and User Guide are there to provide additional tools to support the manual handling recommendations in SG6:10 – aiming to provide excellent training, to help scaffolding operatives and their employers reduce the risk of accidents, injury and long-term health problems too often associated with manual handling."
Stephen Radcliffe, Director of UKCG said: "Following on from UKCG adoption of NASC guidance on appointment and management of scaffolding contractors, the UKCG is pleased to join forces with NASC to tackle the frequency of manual handling accidents occurring to scaffolding operatives on UKCG sites."
For more information please visit: www.nasc.org.uk