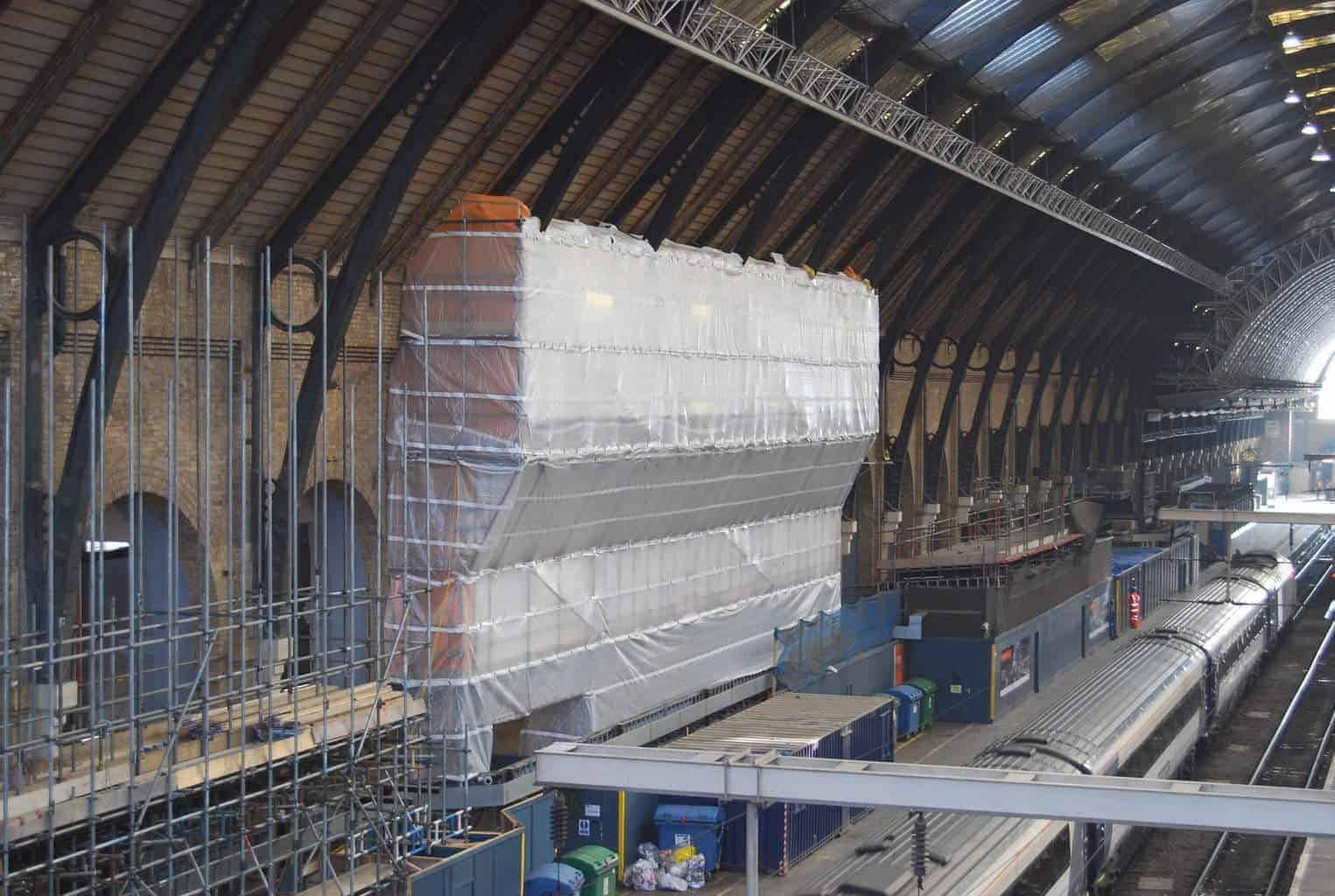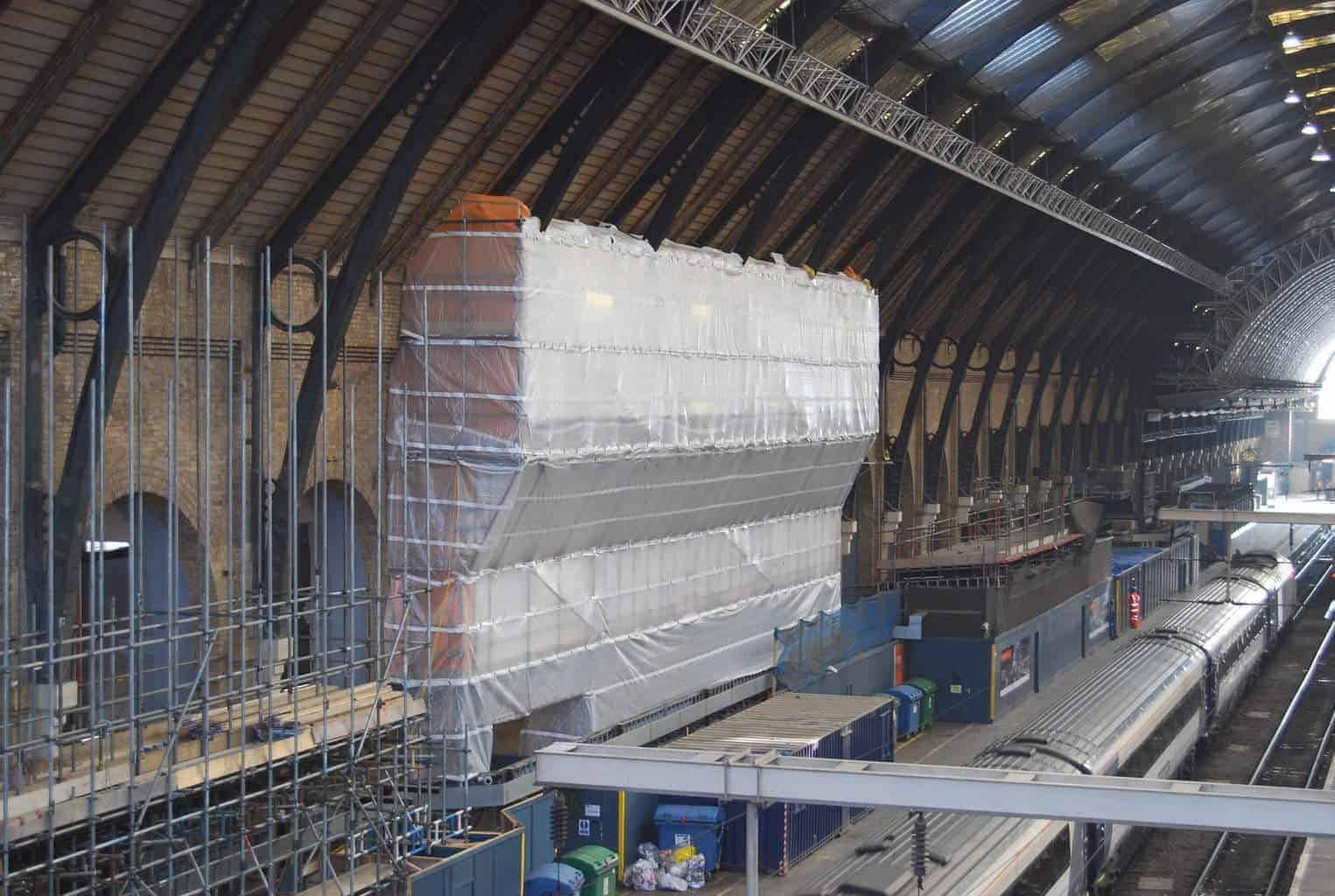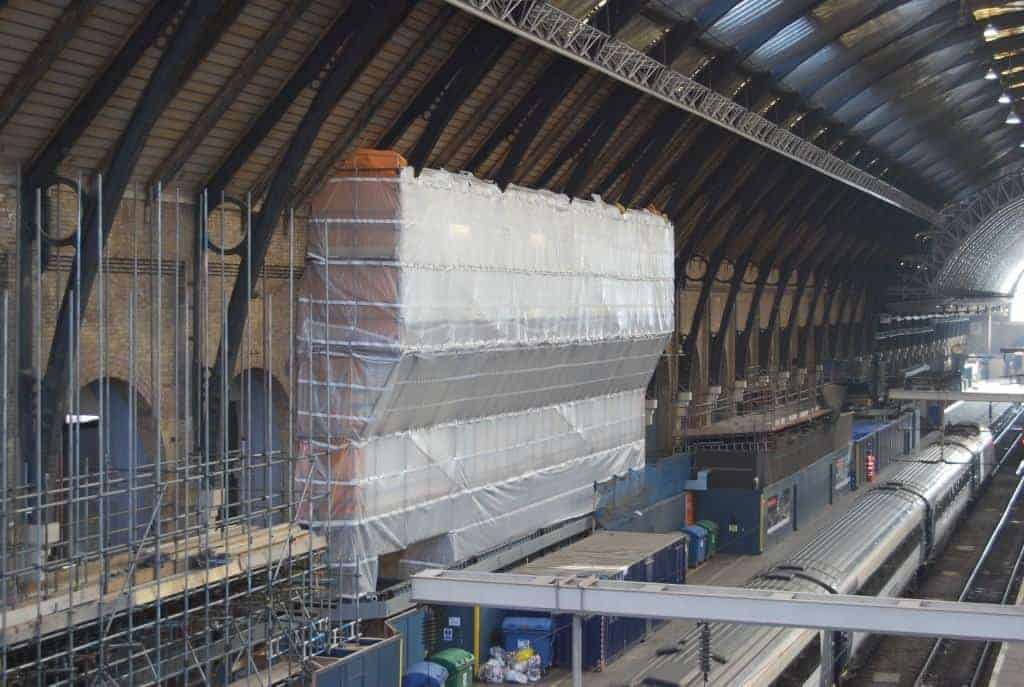 Keder Roof Sheeting from Industrial Textiles and Plastics Selected for Europe's Largest Temporary Roofing Project.
Fundamental to the Olympic Games redevelopment programme designed to showcase London at its very best was the £500 million refurbishment of Kings Cross station.
Initiated in 2007, the project spanned 5 years with completion in March 2012, four months ahead of the Games.  With a stringent success criteria including maintaining a fully operational rail timetable throughout the works, the scale and the scope of the project posed numerous challenges.
Designed by Lewis Cubitt in 1852, the Grade 1 listed building had grown tired and its former glory overshadowed by neighbouring St Pancras.  With the design integrity fiercely protected by English Heritage, the challenge of uniting the modern transport efficiency required by record number of rail passengers with the elegance of the original Victorian design was safeguarded by Kier Construction.
Perhaps the most heralded of its design elements, the barrel-vaulted glazed roof at Kings Cross required a complete overhaul implicating a temporary roof structure on a scale previously unseen across Europe.  To deliver the ambitious roofing project, Kier co-ordinated the services of Norford Scaffolding and the Combisafe UBIX roofing structure.
With passenger safety and comfort a primary consideration, another critical element of the temporary roof solution was the sheeting system for encapsulating the structure and providing weather protection.  Satisfying the broad and rigorous criteria, Powerclad KR1100 from Yorkshire based Industrial Textiles & Plastics (ITP) was selected.  Incorporating beaded hems, the tailor-made sheets are run up a special aluminium track, much like a yacht's sail.  Offering exceptional light transmission with high tensile strength, Kings Cross was able to maintain a 24 hour rail schedule as the works progressed.
Managing Director at ITP, Marc van der Voort explained "Our Powerclad Keder Sheeting is manufactured using an engineered full-width material without welded seams to provide a stronger sheet.  This, in conjunction with its light transmission properties singled it out as the optimal material for this challenging project".
"In addition to supplying our Keder Sheeting, we were proud to be involved in the work on the internal platforms for which we provided our Powerclad Scaffold Sheeting".
London undoubtedly triumphed with the success of the Olympic Games, and for its part in the capital's regeneration project, Kings Cross station's majestic return to glory clearly claimed the gold.