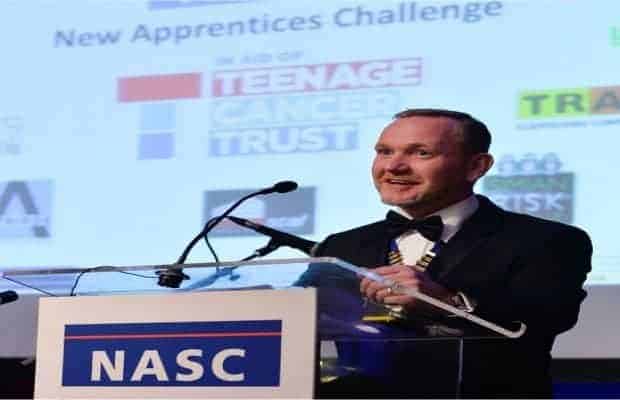 The new NASC President, Kevin Ward has challenged it's members to create a minimum of 400 new scaffolder apprentices during his two-year term.
Mr Ward who was a former scaffolding apprentice himself  unveiled his apprentice scheme at the NASC AGM in Bristol on November 22nd, and also revealed that The Teenage Cancer Trust would be a beneficiary of this challenge, as each new apprentice will generate a £100 donation from participating NASC member companies. If the target is met during Mr Ward's two-year term as NASC President, this will mean the charity will receive a minimum donation of £40,000 from its members.
Mr Ward said:
"Apprentices are the lifeblood of our industry and we must lead from the front by setting the right example for others to follow, both within the scaffolding industry and also for the wider construction sector. As a former apprentice myself, I know we will be creating superb career opportunities for at the very least 400 young people, whilst also raising funds for an incredibly worthy charity in The Teenage Cancer Trust. It is a win-win for all – a real no brainer!
"The creation of at least 400 new scaffolding apprentices during the next two year period should be a straight forward commitment for NASC members to fulfil. After all, the members themselves will ultimately be long-term beneficiaries.
"CISRS Scheme Manager, Dave Mosley and I would like to hear from any member company which struggles to find a placement with a suitable approved training provider for any of its new apprentices and we will do whatever we can to help them out."
Robin James, NASC's Managing Director said:
"We are very excited about the President's bold apprenticeship scheme and will be working hard with our members to assist them, so we can reach the goal of over 400 new scaffolding apprentices in two years, and raise over £40,000 for The Teenage Cancer Trust."
Dave Mosley added: "Introducing young people to a career in scaffolding is at the core of the work of the CISRS and we are happy to support the new President's initiative which will benefit the industry and a fabulous charity in equal measure."
The NASC's President's scheme also has the backing of the Minister for Skills and Enterprise, Matthew Hancock MP – after NASC President, Kevin Ward wrote to the Prime Minister to inform him of the challenge.
Mr Hancock said: "I am delighted that you are announcing your commitment to Apprenticeships at the beginning of your Presidency. Apprentices are at the heart of the Government's drive to equip people of all ages with the skills employers need to grow and compete. Research shows Apprenticeships are good for people, good for the economy and help employers build a loyal and competent workforce. We rely on employers offering opportunities, so I welcome your support of the Apprenticeships programme in making this new commitment."
And Michelle Aucott, Regional Fundraiser for The Teenage Cancer Trust added: "We are very excited with the plan you have proposed. We would like to thank you and the NASC membership for supporting The Teenage Cancer Trust.
"This amount of money will make such a difference to the lives of teenagers and young adults that have been affected by cancer. We rely on donations like yours to fund our vital work and help transform the lives of young people with cancer."