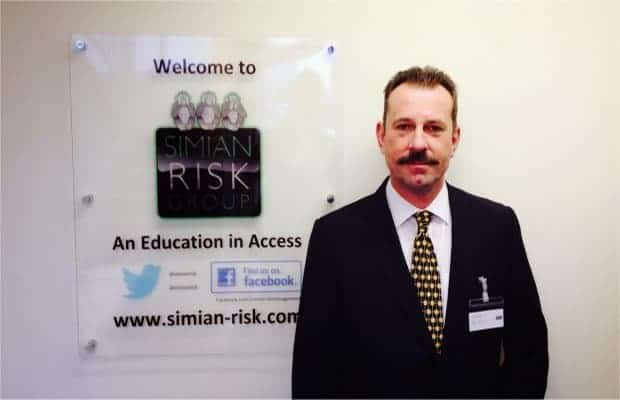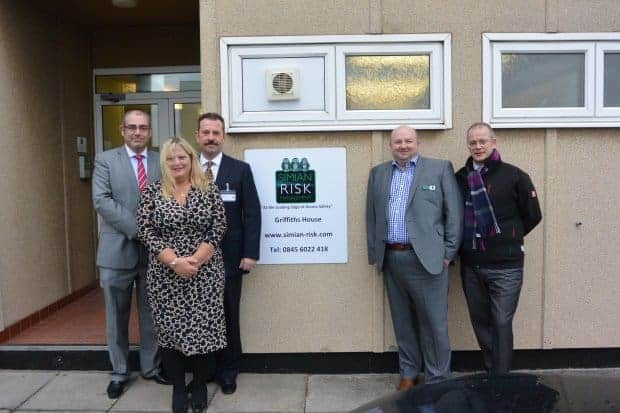 ScaffMag get's a exclusive interview with industry expert Terry Sennett after being unveiled as the latest addition to the successful Simian team.
Scaffmag was in Warrington Friday 29th November 2013, to cover The Simian Risk Group's annual Open Day event. Featuring an introduction and update session on last week's launching of TG20:13 by the NASC, at its AGM in Bristol.
During the day we caught up with Terry and Fiona Sennett, who had just been unveiled by Simian Directors Ian Fyall & Simon Hughes, as the latest members selected to join their successful Simian team. Terry & Fiona will be taking up permanent positions overseas for the company within the UAE. As part of Simian's continuing commitment and investment to its successful and rapidly expanding International service provision.
ScaffMag: – "Terry, this has been a hectic 12-months for you, since leaving your company Modus Access to pursue a new career. What were the reasons behind this change? Moving from Contract Installation to industry Training arenas couldn't have been easy"?
Terry: -" The change was born from necessity. I could no longer accept my company's operatives returning from industry training courses, stating they had learned very little and in some cases, nothing at all! I attended the last of my own practical training courses in 1991, which was the CITB Advanced course. The three courses I attended, provided the underpinning knowledge and skill sets required for a successful career within our industry".

"During the last two decades of managing my companies, I took on the personal development of its employees. So continuously training staff in-house presented no concerns for me changing professional roles. Those operatives consistently installed the most complex and full range of tube and fitting structures to the relevant exacting standards of the industry. Regardless of the introduction of SG4, TG20, CDM, BS: 5975, WAHR's, BS EN 13374 etc, the companies service provisions remained compliant, profitable and most importantly sustainable. Throughout this period of time, employees returned from various training courses with the same negative opinions. So what was being taught in the training centres of today and who exactly was teaching it? It certainly didn't seem relevant to tasks and projects that my companies were undertaking.

I also belatedly came to the conclusion that these training courses were adding very little value to my business, except the obtaining of scheme cards for PPQ (Pre Qualification Questionnaire) and auditing, accreditation purposes. I needed to go back into the centres to find out………."
ScaffMag: – "I see, so you decided that the only way to truly evaluate the quality and effectiveness of the training being received, not only by your own employees but for others within our industry was to actually spend time working for and with the training providers! What was your experience and what did you learn during this time"?
Terry: – "Suffice to say I rapidly obtained answers to those aforementioned questions I raised. A standard, ledger, transom and brace remained the same from 1991. Similarly a 2-bay x l-lift independent structure still requires the structural components to be configured, using the exact same physical/mechanical techniques and procedure. What has changed are the additional legislative demands and industry best practise requirements, that impact on the processes we now need to adopt during the planning, installation and dismantling processes."

"The duration of today's industry operative courses remain no different from those of yesteryear. Apart from the inclusion of SG4 within erecting and dismantling processes, the physical methods and processes of configuring components have altered little and remain the maximum time consuming elements within the operative courses. Management courses are commonly 2-day durations for the Basic/Advanced Inspection and 5-days for the Supervisors course. Since 1991, much has changed within our industry, focusing on the processes, procedures and planning of work projects. Compliancy remains a mandatory requirement as always, but "how" compliancy is achieved has become a much more complex, time consuming and expensive consideration for the industry.

"Everything that can be counted does not necessarily count; everything that counts cannot necessarily be counted" is a concept taught to us by one of the world's most brilliant and inspirational minds. Many of us seem to have forgotten this lesson."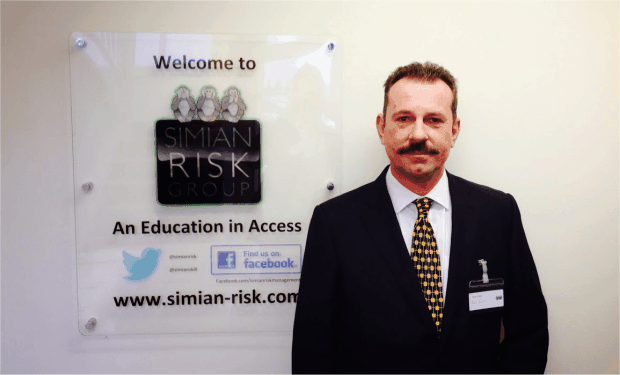 ScaffMag: – "So what elements do you think are missing, or not adequately addressed within today's training course content and delivery techniques"?
Terry: – "There seems to be very little creativity within most of the training centres of today. Indeed most course content, material and teaching methods have altered very little during the passage of time, but our industry most definitely has in certain critical areas. Teaching/Instructing methods are now heavily over reliant on technology, for instance there is a PowerPoint presentation for almost every element of theoretical course content. Is this necessary and is it the most "effective" way of passing relative industry knowledge and information to all candidates"?

'Of course not', Trainers and Instructors are taught the wide variety of methods at their disposal and each individual method's level of effectiveness within professional teaching courses such as PTLLS. Individual Trainer/Instructor standards differ enormously, just as they do amongst relative scaffolding contractors. There are so many factors behind those differences, such as: – previous and relative industry experience, individual knowledge, commitment to Continual Professional Development, (CPD) motivational drivers & so on."
ScaffMag: – And those missing training elements Terry?
Terry: – "An excellent question and one we can only hope to answer by looking through the Client Telescope! The views and outlooks vary, dependent on which end of the telescope is used."

"One view is magnified, which is usually our own wants, considerations and desires. From a training providers view point this may well be simply to sell more courses, at a cheaper unit cost than their competitors. This business model demands overheads are kept low. Therefore little investment can be made in developing course material, quality trainers/instructors or training centre resources and learning materials."

"When the telescope is viewed from the opposite end a very different picture and outlook appears. From a client's viewpoint they will demand training courses that ultimately add value to their business. They require industry knowledge delivered to their attending operatives, which is relative and specific to their professional undertakings. This training must be delivered by the best trainers/instructors available, to ensure the client's respective goals are achieved. The respective course material must be the most up to date available, considering the individual resources, equipment and respective work tasks that the client's operatives are using and undertaking, both today and tomorrow, not yesteryear."

"Throughout my professional life I have been committed to looking through both ends of the telescope, which demands that solutions are created to consider both viewpoints. I am currently working with other like-minded professionals on producing those innovative training courses and delivery methods, which address those existing, missing knowledge elements."
ScaffMag: – "We look forward to receiving the details of these new bespoke courses next year and I am sure our readers will be too. Now Terry, why The Simian Group and the relocation to Dubai in particular"?
Terry: – "The Simian Group have an ambitious, committed and passionate team driving them forwards. Their pioneering approach and consistency of standard in both the UK and Overseas training and consultancy markets, has propelled them to the forefront of this particular industry sector. The two Directors communicated the exciting future visions and plans that they for the Group both here in the UK and overseas. Including the specific roles that they had identified as being vital, to continuing the success of the Group's UAE and Middle East service provision to its clients.

"Simian's ethos is centred round one of the organisations mottos, of recognising talent and improving it. Fiona and I were offered the opportunity to join Simian Skill's high achieving team and we didn't hesitate in accepting it"!

"The key element for me is that the Directors are all creative, compared to stylists. They do not simply take others work and ideas to rehash it and then repackage them as their own. They challenge conventional thinking and have enquiring minds, in where the most important part of a problem is the question mark (?) at the end of the sentence! This ethos promotes and demands that all at Simian look through the Client's Telescope at every opportunity, which of course provides the perfect professional environment for the Group's clients, to have their individual & specific needs catered for."
ScaffMag: – "Earlier in the week came the announcement that Dubai had been the city selected to host the 2020 World Expo Event. Obviously this was positive news for Simian Skill"?
Terry: – "That announcement was tremendous news for the whole of Middle East region, who are certainly taking on a prominent position in their ability of hosting the world's most prestigious events. The 2020 World Expo event in Dubai being closely followed by Qatar's hosting of 2022 football World Cup. In particular Dubai will feel the positive effects from the huge financial investment generated by the winning of the 2020 World Expo, over the next 7-years. This will benefit the whole of UAE region and of course its diverse array of business organisations operating with its logistical boundaries."

"There are exciting times ahead for all UAE businesses, including the construction and subsequent training industries. Simian Skill has identified the need for its clients, to have an ever- present and always available, professional source of contact in the region. Thus providing immediate support and assistance for their respective service provisions, whenever and wherever it is required. This is simply a continuation of the Group's ambition, commitment and investment in the UAE and Middle East regions."
ScaffMag: – "Thanks for your time Terry and of course ScaffMag wishes you, Fiona and Simian all the very best for the future overseas. One final question what's your opinion of this Simian Open Day event and the launch of TG20:13"?
Terry: – "From the opening of the presentation to the theme of Queen's "One Vision" to the final QA session conclusion, a highly professional and slick delivery was achieved. The team ethic was demonstrated by each respective company Director, taking the responsibility to passionately address the attendees, regarding updates and developments in each of their respective areas of the Group's service provision. The live demonstration of TG20:13 being well received and was very insightful, as was the broader instruction and operational information delivered on the new industry guidance suite."

"TG20:13 looks to be an excellent addition to our industries best practice procedures. The live demonstration of Rescue Techniques to be employed with client Rescue Plans was an excellent feature and of course my own particular favourite of the Layher stand was equally well attended. Aluminium Tower installation & dismantling demonstration proved an interesting feature also."

"A superb event delivered by a passionate team with plenty of "skin in the game!" Well done to all involved & we cannot wait to contribute to the team effort."

"Finally, Dan it's been a pleasure talking with you & hopefully you will accept our invitation to join us in Dubai in the near future. I can promise an interesting insight into Simian Skill's unique International service provision."