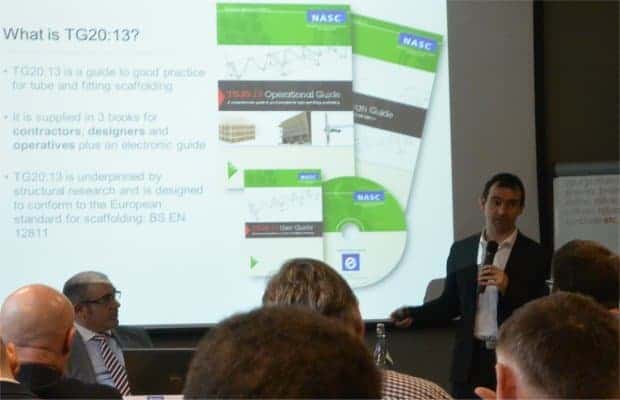 After a huge investment from the NASC and two years work in the making, TG20:13 has finally been launched for general sale.
The long awaited TG20:13 guidance has today (25th February) been launched by the National Access and Scaffolding Confederation (NASC) at an event in the centre of London.
With an estimated development cost of around £600,000 and two years hard work from CADS & NASC, TG20:13 (Technical Guidelines for tube and fitting scaffolding) has been produced with support from the HSE,UKCG and CITB. The new guidance replaces TG20:08 which will be officially withdrawn 30th June 2014.
ScaffMag travelled down to London to cover the media launch seminar that was held at the prestigious Centerpoint building in the heart of the city.
NASC Managing Director Robin James introduced the 70+ invited guests to the new revolutionary guidance with in depth presentations from Terry Roberts (CADS) and Simon Hughes (Simian Risk).
Both gave great informative presentations of the guidance and demonstrated the amazing and quite magical eGuide.
During his presentation Simon Hughes commented:
"TG20:13 will be one of the biggest changes within the scaffolding industry in recent times. Many grey areas have now become black and white with the release of this revolutionary guidance."

Simon also added: "The release of this document will be a steep learning curve for the scaffolding industry."
While the scaffolding industry gets to grips with the new guidance the Health & Safety Executive (HSE) have announced they will not in-force TG20:13 during a so called "Bedding In" period.
To help bring scaffolding contractors across the country up to speed with the new guidance the NASC have produced Tool box talk videos and a eGuide FAQ that can be found here.
Non NASC members prices for the new suite will be:
TG20:13 Full Suite £995.00 +VAT
TG20:13 eGuide £500.00 +VAT
TG20:13 Operational Guide £250.00
TG20:13 Design Guide £250.00
TG20:13 Pocket User Guide £6.00
Purchasers of standalone TG20:13 publications are required to have previously ordered the full suite first.
All elements of TG20:13 are available to buy NOW from the NASC website
TG20:13 Full Suite Includes:
TG20:13 Operational Guide. A full-colour, brand new, 224-page guide containing detailed practical guidance for most common types of scaffolding supported by structural research and calculation. Guidance is provided for an expanded range of standard structures which includes independent scaffolding, interior birdcages, chimney stack scaffolds, loading bays, ladder-access towers, free-standing towers, lift shaft towers and putlog scaffolding. A NEW range of TG20 'compliance sheets' is included for these structures.
TG20:13 Design Guide. Intended predominantly for engineers and designers, this 206-page document provides technical data, commentary, and source material for use by competent and suitably qualified scaffold designers in circumstances which are outside the scope of standard solutions provided in the TG20:13 Operational Guide and TG20:13 e-Guide software.
TG20:13 e-Guide. Designed for Mac, PC and tablet use, making it extremely easy to check scaffolds for TG20:13 compliance digitally, with user-friendly software which will facilitate printing and circulation of details of TG20 compliant structures by email. The TG20:13 e-Guide calculates and prints compliance sheets for TG20 compliant scaffolding. It allows TG20 to incorporate a wide range of scaffolding configurations, and calculates safe heights, tie duties and leg loads.
TG20:13 User Guide. A 32-page, full-colour pocket guide in A6 format. This document summarises clearly the requirements for TG20 compliant scaffolding and offers indispensable guidance to the scaffolding operative on-site.