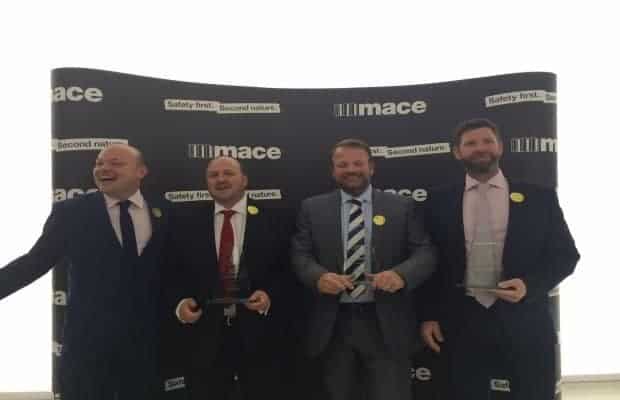 London based scaffolding firm GKR Scaffolding Ltd has been awarded three accolades for outstanding contributions to health and safety.
On Wednesday, 15 October, GKR Scaffolding Limited attended Mace's inaugural 'Safety first. Second nature.' awards at 30 Euston Square, London.
The awards had been introduced this year to celebrate the outstanding contributions made to health and safety by those across Mace, their clients and supply chain. They recognise the great strides being made from a health and safety perspective at Mace and are an opportunity to thank those for their achievements. It will also service to set a benchmark in best practice for the future.
The GKR team are relentlessly committed to delivering innovative scaffolding solutions safely and improving the safety culture across the scaffold industry.
The firm said they were proud to have been recognised by Mace for their safety culture and for winning the following categories at this year's awards ceremony:
Innovation and Design award for Elimin-8
Supply Chain Awards – Most improved
Supply Chain Award – Individual: Lee Rowswell
Overall, the GKR team was honoured as a Mace supplier that has demonstrated improved health and safety performance over the past year, along with an increased commitment and drive to communicate the safety message across Mace's supply chain partners.
Mace's Group Board sponsor for health and safety, Jason Millett said:
"It was wonderful to see everyone come together to celebrate the achievements that we, along with our clients and supply chain partners, have made in health and safety. There have been some outstanding contributions to Mace's 'Safety first. Second nature.' programme, and, in recognising these, we have been able to say thank you and show our appreciation for all of the hard work and commitment. A truly memorable evening."