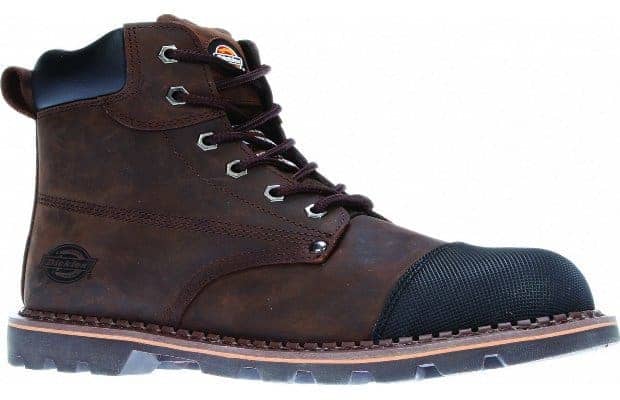 Dickies Crawford Safety Boot – £65 dickiesstore.co.uk
When working in harsh conditions 'day in day out' like us scaffolders do, choosing the right safety boot is critical as fatigue can soon set in if you made the wrong decision.  The Dickies Crawford work boot was a new addition to the range for 2014, Dickies have worked hard to improve their safety footwear range and the Crawford is a great example of a highly technical, comfortable and practical boot at an affordable price.
The Crawford boots performed exceedingly well during my week long review period, they ticked all the boxes for my preferred wants in a safety boot and were surprisingly comfy. The boots are of a Goodyear welt construction for heavy duty performance and to maximise the sole's water-resistance. As standard The Dickies Crawford safety boots have Steel toe-caps and midsole and comprises of a Breathable Cambrelle lining for added comfort. Crazy horse leather uppers finish off the exterior of the Crawford boot with a smart toe cap protector.  
All in all, Dickies have stepped up to the mark with the Crawford boot that easily competes with more premium brands like Timberlands and Dewalt for build quality and more importantly affordability.
Best price £65, vat free @ www.dickiesstore.co.uk