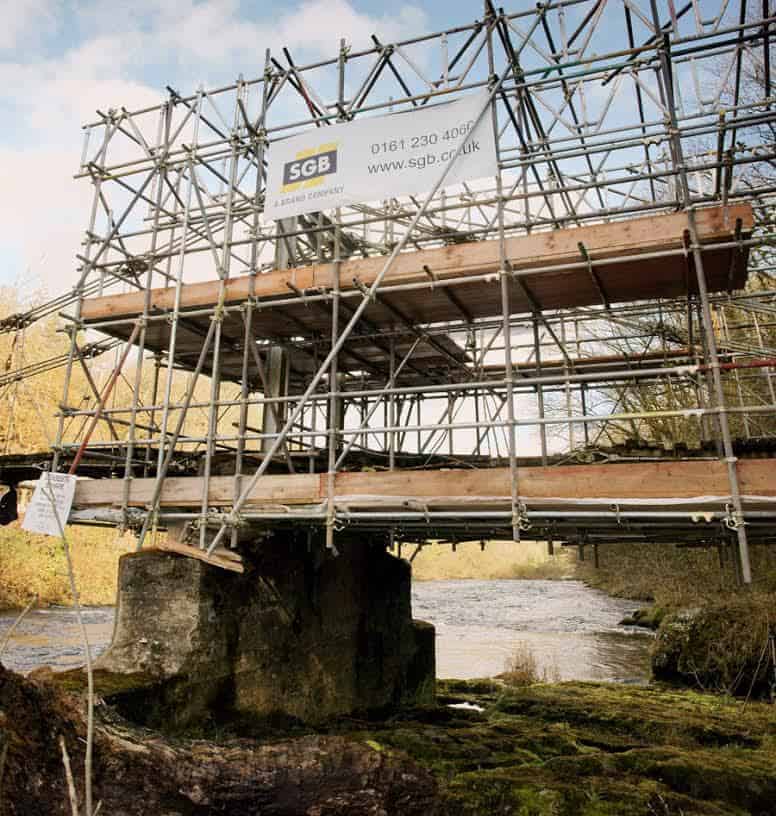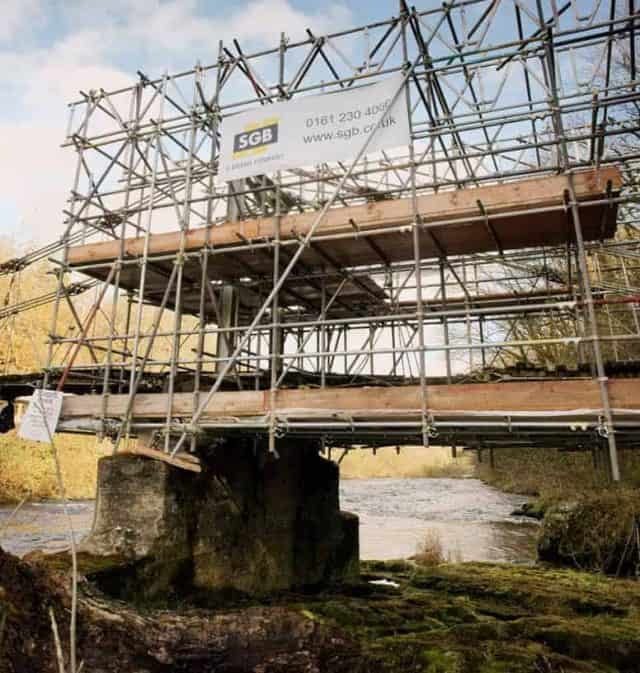 SGB has successfully completed a complex scaffold on the historic Welsh 'Chain Bridge'
The major Welsh landmark has benefitted from a bespoke scaffolding and access solution provided by the BRAND owned SGB. The historic 'Chain Bridge' in Llangollen, Denbighshire is undergoing a £465,000 restoration, and the scaffolding and access work carried out by SGB is central to the project.
The 1929 bridge which crosses the River Dee had previously fallen into disrepair, and a campaign began to refurbish the structure and restore the link between the Llangollen Canal and the railway line which lie on opposite banks. "We were initially contacted by the locally-based principal contractor, Shemec Ltd, to propose a scaffolding design that would allow the work to take place," comments SGB Estimator, Tony Lunt.
"All the chain work that holds the bridge deck needed to be removed, refurbished and replaced, which is a very challenging and intricate task. Other scaffolding designs had already been put forward, but when it became clear that this was a more complex job than originally anticipated, an alternative was sought."
The original proposal had been to use scaffolding to provide access to the central span of the bridge. "However the problem was that this might impinge on the amount of headroom that had to be maintained above the water to allow for river traffic and high water levels," adds Tony. "Fortunately our team, led by project manager Alan Arthur, was able to devise some innovative solutions which enabled the structure to be built without the use of a single mechanical anchor – something which also created many benefits, such as eliminating the danger of debris falling into the river below". 
Despite the high degree of complexity, SGB was able to demonstrate a very detailed understanding of the technical issues involved. The company also worked very closely with the main contractor to ensure that the final solution met all Shemec's requirements, not only for the construction of the scaffolding but also for other considerations such as logistics and site access.
"While access and flexibility were obviously vital, we were also able to demonstrate that our solution provided a high degree of safety – something which is always a prime aim for us," adds Tony.