An ex-scaffolder explains how he made the transition from being a well paid scaffolder to become a Technical Design Draughtsman at one of the UK's leading scaffold design firms.
So you have put in the hours day in day out of hard graft, successfully working your way up the industry ladder and finally making it into the fold by becoming an highly experienced fully compliant scaffolder… but have you ever contemplated on what you should do next in your career..?
How about Scaffold Design ?
Ex-scaffolder Alex Kirk of 48.3 Scaffold Design shares his inspiring story, in his own words Alex reveals how one day he laid down his spanners for the final time to begin his journey to become a Technical Design Draughtsman at one of the UK's leading scaffold design firms.
Alex's story emphasises on a huge personal sacrifice he and his family have made, his hard work, dedication and drive resonates throughout the piece.
Alex Kirk's Journey
Over the course of my time within the scaffolding industry by far and away the most popular question amongst scaffolders who have achieved a decent level of competency is: "how much did you take home last week?" the second most common question is "How do you become a Scaffold Designer?" although the answer to the first question is relatively simple (enough to come back this week!) the second is not as clear cut and simple.
My own path to becoming a Technical Design Draughtsman is by no means the only route
available but it is the route that I have taken. You could say I was lucky in that I am a third generation scaffolder; whose family owns their own scaffold firm. So really I have been privileged to be in and around scaffolding since before I could walk. I often joked that my dad gave me a spanner as a baby instead of a rattle, in fact that's an exaggeration but not as big as you might expect.
I think the most important trait anybody who wants to make the transition needs above all is 'Drive'. This is not an easy path to follow. For example in 2009 I was a charge hand scaffolder earning relatively good money on some large construction projects with my girlfriend (now wife) pregnant with our first child. It was at this point I decided I needed to get the ball rolling in pursuing my long term career ambitions, I knew I didn't want to stay scaffolding forever but I wanted to be able to use the experience and knowledge I had gained over the years.
As soon as I started to look at other professions within the industry it became abundantly clear I was going to need to further my education. 
My educational path
Having not been in formal education for some time, this was a scary realisation. Initially I studied for a NEBOSH General Certificate through work. In my opinion this was a fantastic course that not only provided me with a broader knowledge of the construction industry but also prepared me mentally for learning.
After the completion of the NEBOSH course I looked around at institutions that provided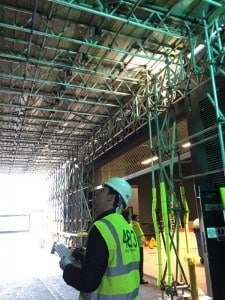 part time engineering courses (of which there were several). I rang them all up and talked to the lecturers about my position and what they thought about me taking the course as I
hadn't taken math's since GCSE. Bolton University were by far the most helpful and their HNC Civil Engineering course was centered on industry which I thought would suit me personally. I took all the information I had collected and talked to my employers to ask if they were willing to help me; thankfully they did, giving me a day release every week to attend college and pay the tuition fees which I am incredibly grateful for.
As I mentioned previously, being driven to achieve your goal is crucial, having a young family I wanted to provide for became my driving force. However, ironically because I was studying and working in tandem, I was juggling working, studying and a home/social life. This was not sustainable and sacrifices had to be made. I wasn't able to always go to the park with the kids or go to the pub to watch the football with my mates as I had studying to do. I would be working most nights sometimes until 2 or 3am in the morning then getting up at 6.30am and going to work. I know that sounds like a Monty Python sketch but it is the reality of the amount of work needed. I'd like to be able to tell you how many hours a week you will need to study in order to pass the HNC but in all honesty I couldn't tell you. What I can tell you is that I did something everyday, whether that was writing an assignment or simply watching a YouTube video on beam analysis.
As long as the driving force behind why you are looking to make this transition is strong enough you'll make those sacrifices without even noticing you are making them. For me, it is only when I look back do I realise how hard it has been and I'm still training!
The second common misconception is that scaffold design is the construction industries equivalent to the premier league footballer, paid a fortune for easy work. In reality the designs you see as a scaffolder are the end product of many hours hard work both designing and proving through calculation that the designs work. I was once told that this transition is like swapping from the top of a ladder leaning against the wrong house to the bottom of a ladder leaning against the right house. I know this sounds a little silly but it resonated with me as when I left scaffolding to take up a position here at 48.3 Scaffold Design I took a huge pay cut. The truth is I would of probably taken an even bigger pay cut to take the job as I saw it as my first foot on the right ladder! I was competing for this position with young graduates who were fresh out of university and as such the
salary reflects that.
My in house training at 48.3
Far from my education being over now that I am employed as a Technical Design Draughtsman, here at 48.3 I am being put through a training scheme. This training is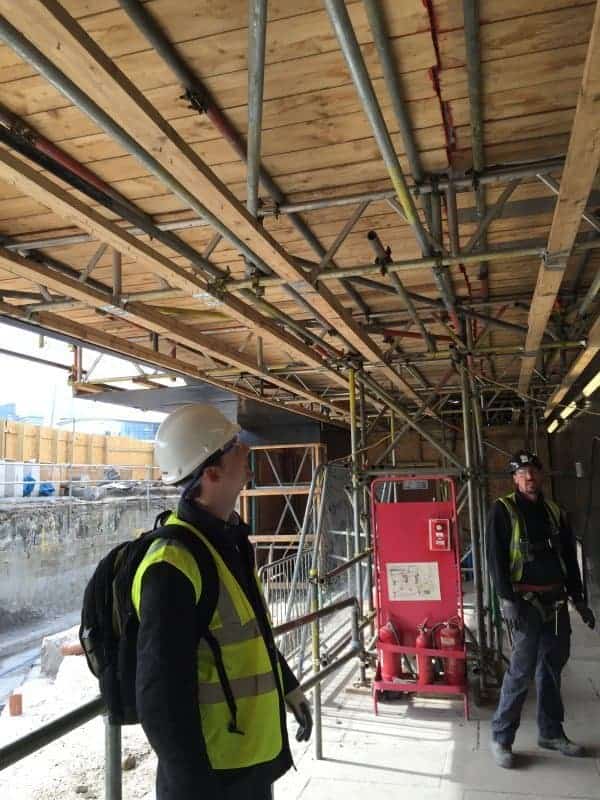 integrated into my working day and encompasses not only our design procedures but also the legal and ethical reasons behind how we design scaffolds. This training teamed with being surrounded by some of the most forward thinking engineers in the industry is giving me the knowledge and skills to become a fantastic design engineer. As my training progresses and I generate more revenue for the company so too my personal income will increase.
Since starting work here and undertaking the in house training scheme I have expressed an interest in pursuing my formal education further which was encouraged and supported by everyone here at 48.3. The mentoring I receive from everyone here in the design team is invaluable, the guidance and support is fantastic. I cannot express enough how much benefit it would be for anyone who is thinking about making this transition to find a mentor. Since being mentored here at 48.3 Scaffold Design I have progressed faster than I could of ever imagined.
My words of advice
My final advice is this transition will not happen over night and you will probably question why you are doing it but take it from me it is definitely worth it. I suppose if I had to leave you with a guide to becoming a technical design draughtsman for an advanced scaffolder then I would say:
Make sure your drive is strong because it's going to be very hard.
Ask yourself WHY do you want to be a design engineer?
Be aware that sacrifices will need to be made especially if you have a family with young children.
Finally and most importantly find a mentor whether that be an individual who has successfully made the transition or a company that is willing to guide you with advice or even training.
If you have been inspired by Alex's story and are thinking about a career in Scaffold Design, we have provided a few useful links to help you on your journey!
To find out more about NEBOSH Courses and Providers in your area click here.
To find out about HNC Courses in Civil Engineering click here.
Good Luck!