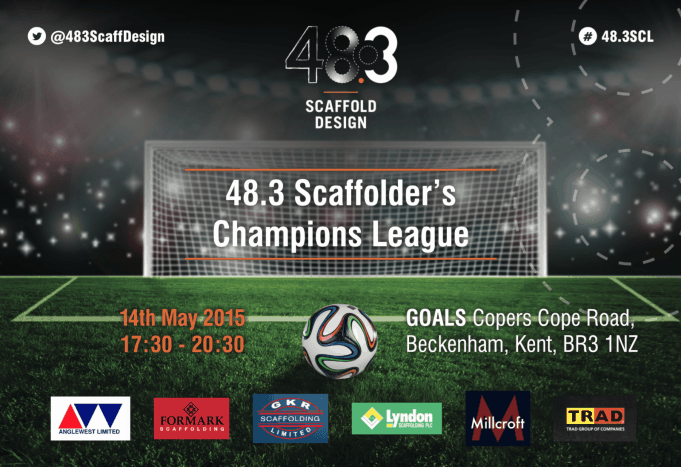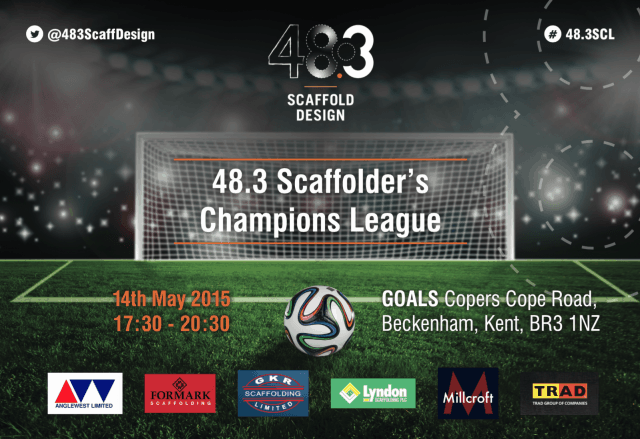 Six UK leading scaffolding firms will battle it out at this years 48.3 Scaffolders Champions League.
The football season maybe coming to a close but for the Scaffold industry it's only just beginning! The testosterone will be pumping on Thursday 14th May when six leading scaffolding companies battle it out in the 48.3 Scaffolder's Champion League at Goals, in Beckenham!
Phil Smith, Regional Manager at Lyndon Scaffolding came up with the idea to launch a 7 a side scaffolding football tournament bringing together Lyndon, Anglewest, Formark, GKR, Millcroft and TRAD for an evening of friendly competition!
Phil, a former 'Spanner D'Or' winner added "We have played a few of the London Scaffold companies before and had some really good games, this time I thought it would be a great idea to have competition where more teams can be involved. It's a great chance to see industry friends and colleagues, and enjoy a bit of banter outside of work. Everyone at Lyndon is really looking forward to it".
As proud sponsors of the event 48.3 are looking forward to watching the team's battle it out for the 48.3 Scaffolder's Champion League trophy, seeing who is more premier league than Sunday league!
Everyone is welcome to come and cheer on the teams!
When: 14th May 2015 at 17:30 – 20:30
Where: 
Goals Beckenham North
Copers Cope Road,
Beckenham,
Kent,
BR3 1NZ
Teams:
Lyndon Scaffolding Plc
GKR Scaffolding Ltd
Trad Scaffolding Ltd
Formark Scaffolding Ltd
Anglewest Scaffolding Ltd
Millcroft Plc