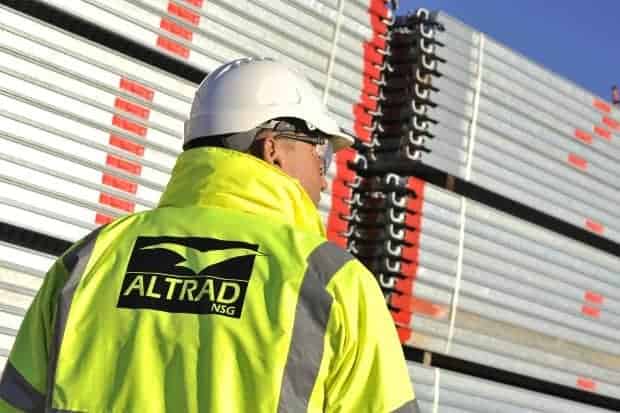 Scaffolding and industrial services specialist Altrad NSG has won a RoSPA (The Royal Society for the Prevention of Accidents) President's Award following 10 years of safety excellence.
The award was presented to recognise the company's excellent health and safety record at its INEOS ChlorVinyls site in Runcorn, which has now achieved over 2¼ million hours of work without a lost-time accident, dating back to 2005.
The President's Award is only given to businesses when they record ten consecutive Gold Medals for Occupational Health & Safety. North Wales-based Altrad NSG has also recently received a British Safety Council Five Star Award and an ECIA Safe Working Award.
Howard Satchell, compliance manager at Altrad NSG, said: "This is an outstanding achievement from the team at INEOS ChlorVinyls – to go ten years and over two million hours without a lost-time accident demonstrates to our clients and potential customers that we are a responsible business that places health and safety as top priority."
INEOS ChlorVinyls is a leading global manufacturer of chlorine and PVC – its Runcorn site is the company's biggest in the UK.
Mr Satchell added: "We have 110 staff at our INEOS ChlorVinyls site, providing multi-discipline maintenance works including scaffolding, rope access, painting and industrial cleaning, as well as thermal insulation and sheet metal work. Our ethos is to engage with every employee and directly involve them in the development and implementation of health and safety schemes. This gives our staff ownership and helps them to understand the importance of workplace safety."
Through the RoSPA Awards scheme, which is open to businesses and organisations of all types and sizes from across the UK and overseas, judges consider entrants' overarching occupational health and safety management systems, including practices such as leadership and workforce involvement.
David Rawlins, RoSPA's awards manager, said: "The RoSPA Awards encourage improvement in occupational health and safety management. Organisations that gain recognition for their health and safety management systems, such as Altrad NSG contribute to raising standards overall and we congratulate them."
Organisations that maintain high standards in consecutive years can win RoSPA Gold Medals, President's Awards and Orders of Distinction.
Altrad NSG's award will be presented during a ceremony at the Hilton Birmingham Metropole Hotel on July 15, 2015.