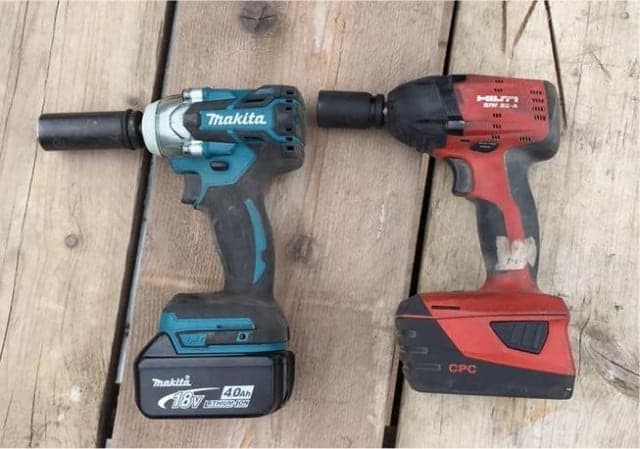 Many scaffolders across the country are ditching the traditional scaffold spanner in favour for a never tiring Impact Wrench (battery depending) for the erection and dismantle of scaffolding.
Could this be the future for our industry? Will we all end up having one of these hanging from our belts? But seriously.. should we be using Impact Wrenches ?
The National Access and Scaffolding Confederation (NASC) has been busy behind the scenes performing vigorous tests tightening couplers with two popular types of impact wrenches and a wide range of drop forged couplers. The couplers were from different suppliers in various conditions, new, used, lubricated and unlubricated. Over 60 tests were completed.
No Concerns
Industry experts at the NASC analyzed the data and found no concerns or adverse effects to the couplers from the tests carried out with both impact wrenches and the traditional scaffold spanner. Subsequently the NASC has deemed the use of impact wrenches for scaffolding purposes acceptable.
However the confederation has released a statement highlighting several important recommendations to be considered by the employer before the use of impact wrenches by operatives:
 The recommended force required to tighten a fitting is 50 N/mtr as stated in EN 74. Most wrenches have stated torque settings (N/mtr) in excess of this recommended figure. However during testing it was noted that settings published by the manufacturer can differ greatly from what is actually achieved. It is therefore recommended that any employer considering authorising the use of impact wrenches carries out testing to establish that the impact wrench which they intend to authorise for use by their employees is capable of applying the correct torque to scaffold fittings on a consistent and recurring basis. Further to completion of an adequate risk assessment by the employer the impact wrench may then be deemed fit for purpose for erection/dismantling and alterations to scaffolding by their employees.
It is recommended that prior to use of an impact wrench on site the employee should first undergo a suitable period of training, familiarisation and monitoring, to ensure that the impact wrench is being used in the correct manner at all times.
The NASC recognises that impact wrenches can offer certain benefits. However members and users of such equipment should be aware that there is potential for concern regarding use and operation. Employers should adequately assess the risk for their own particular situation and ensure that they put in place protocols to cover safe use. It is recommended that any assessment should also address noise and hand/arm vibration.
In addition to the initial training and familiarisation phases, it is recommended that employers should carry out regular toolbox talks refreshing operatives with company policy and rules for the safe use of impact wrenches.
In the event that a nut is stripped off the 'T' bolt it is recommended that the fitting should be returned to the employer's yard where a new replacement ensemble ('T' bolt, nut & washer) can be fitted by the company's maintenance team.
Impact wrenches are normally supplied with rechargeable lithium batteries that provide a more stable power pack. However the confederation recommends that all users follow manufacturer's instructions and that battery life should be monitored.
This statement only applies to drop forged scaffold fittings. The NASC does not recommend the use of impact wrenches with 'pressed' type scaffold fittings.
The NASC has also developed a basic Form which users of impact wrenches may find useful.
Let us know your thoughts in the comments below.